Dreamgirls, the Bill Condon film based on the Broadway play and starring Beyonce Knowles and former Idol finalist Jennifer Hudson, was previewed last night in Los Angeles, San Francisco, Chicago and elsewhere. Overall, the film and Jennifer (pictured below) are garnering rave reviews.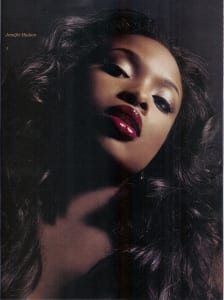 According to Roger Freidman from
Fox News
:
"Last night, at the very first screening of the film, the invited audience cheered, laughed and applauded throughout the show. It's not a leap to say that Dreamgirls will be a huge hit, an Oscar nominee and the de facto winner of the Golden Globe for Best Comedy or Musical."
And, here's what he had to say about American Idol's Hudson, who plays the role of Effie, played famously by Jennifer Holliday on Broadway:
"And the movie introduces a megawatt talent in the form of Jennifer Hudson, a singer who lost out to Fantasia on American Idol and now will likely be giving acceptance speeches for months to come... But the highlight of the endeavor is Hudson, playing the part of Effie White, which Jennifer Holliday made famous on Broadway. That's not just because Effie gets to sing the two best songs in the show.
But you can't change the fact that when Hudson launches into 'And I'm Telling You I'm Not Going,' all hope is lost for any actor who wants to come close to her in this movie or any other this year. The song is sensational, the presentation is dynamic, but the performer is simply stellar, bar none."
Here's the opinion of Tom Derby from The Los Angeles Times:
"... Nothing tops Jennifer Hudson. She not only owns this movie, she rides it like a rocket to instant superstardom. For months, Dreamgirls fans have been beset with worry, wondering: Can Jennifer really nail "And I Am Telling You"? If she doesn't, the whole show falls apart.
The result is so good that DreamWorks now facess a strange problem: Should they bump Hudson up to the lead actress race or keep her in supporting? Frankly, this movie belongs to her. She should be in lead, but let's be realistic. If the former American Idol star goes up against Helen Mirren at the Oscars, she'll get clobbered. However, if only she'll just stay put in supporting, we can declare that race won, wrapped up and ready for the history books. No other divas need apply."
Matt Richenthal is the Editor in Chief of TV Fanatic. Follow him on Twitter and on Google+.