Apparently at universities in the south, geography is not widely taught, as southern gentleman Clay Aiken has yet to discover the Pacific Northwest is part of America. Hence, if you wish to hear Clay sing, and hail from that unfortunate corner of the U.S., pack your bags, check your boarding pass, and hop on the nearest plane for the East Coast.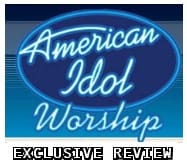 Clay Aiken
is currently singing with several symphony orchestras as a guest artist for this mini-Christmas tour, which kicked off December 1 in snowy Illinois - necessitating a last minute change of plans to leave his 28th birthday celebration and head to Chicago a day early.
The tour will finish in Greensboro, N.C. on the 23rd, just in time to celebrate Christmas at his new home in Raleigh.
I caught up with the tour in Baltimore after a lovely red-eye flight from the Pacific Northwest. Clay is touring without his usual back-up singers and band, though he is traveling with his music director, Jesse Vargas, from his first Joyful Noise tour in 2004.
In each city, the symphony plays anywhere from 20 minutes to an hour, and then Clay sings the second half with the orchestra providing the musical accompaniment. The set list comprises songs from his first Christmas CD, Merry Christmas With Love, and four lovely additions from his Wal-Mart exclusive EP, All Is Well.
Clay is in a league of his own with Christmas carols, and this tour proves as much. His range has grown each year of his career, and the finale, "All Is Well" is a how-to primer on soft, low notes sung with passion up to the soaring, glory notes well above a tenor's range.
In each city, while Clay might have crossed his fingers and planted his feet for luck in hitting that final note, the audience shot to its feet and screamed in appreciation as he hit it. Even more impressive is that for the last week, Clay has been suffering from a debilitating inner ear infection that has given him vertigo and dizziness.

He was forced to sing an entire concert from a seated position on a stool, gripping it with both hands to keep his balance. Most entertainers would have canceled, but Clay wanted the show to continue even though he had to be helped on and off the stage by an assistant.
Now, you may be asking where the comedy part of the title plays into this review. First and foremost, Clay is an outstanding vocalist that can tackle any genre of song and make his own stunning rendition. But few outside of his enthusiastic fans know that Clay Aiken is as well-known for his rapid-fire repartee as he is for his singing.
Clay's portion of the shows only consisted of 14 songs, and most vocalists could whip those out in 30-40 minutes. Several of the concerts I attended featured Clay on stage for almost two hours! Clay truly has the gift of gab, is definitely at ease with his audience members and likes to call on the ones he recognizes.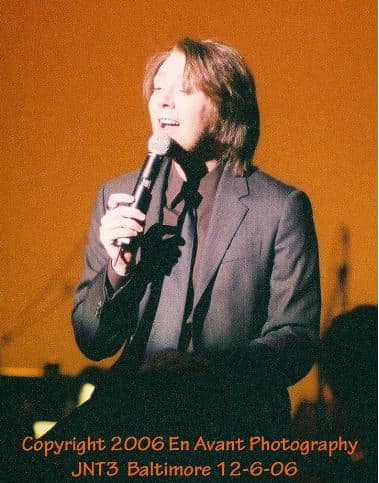 During several concerts, Clay had a running gag going with confiscating the cell phones he sees lit up while the owners are "cellcerting" the concerts to friends unable to attend. He then proceeds to shock the listener with a personal Q & A time - including their choice of his next selection.
Another nightly happening has been the "eye-talian" Word of the Day - highlighting musical terms that he doesn't know. The audience is encouraged to guess the meaning, and the results have been side-splitting with the back-and-forth banter flying.
I sat between two men who were not thrilled to be at the Williamsport, Pa., concert.
Both had been dragged there by family members, were apprehensive at the start, and even more astonished that I had flown across the country to see an event they didn't want to attend. By the end of the concert, Clay had completely won them over, as they roared with laughter the entire show and were in awe of his vocal prowess.
Score one for the Aiken!
At both the Williamsport and Easton, Pa., concerts, Clay came out to greet frozen fans after the show, and thrilled the two-to-three block-long line with a personal touch or handshake. The fans were elated and well-rewarded for a vigil on two very cold nights. Whether or not that personal connection with his fans was the cause of Clay's soon-to-follow inner ear infection will never be known, but it is part of the charm that keeps the former American Idol runner-up's fans forever flying or driving to see him once again in concert.
It is also important to note that during each concert, Clay stresses the need to reach out to others. He spends a few minutes talking about his work with UNICEF and the Bubel/Aiken Foundation, and encourages people to reach out and contribute any way they can to whatever organization they choose to support. He then launches into "Don't Save It All For Christmas Day," the last song of his set before the "All Is Well" encore.
If you are unable to attend any of the three remaining shows, catch Clay Friday on the TV singing a duet with Megan Mulally on her talk show, and then catch him premiering the song "Everything I Have" from his new CD, A Thousand Different Ways, the day after Christmas on Days of Our Lives.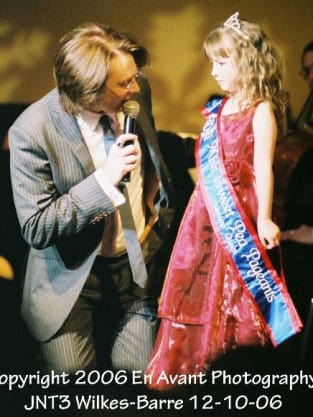 Matt Richenthal is the Editor in Chief of TV Fanatic. Follow him on Twitter and on Google+.