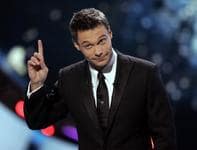 recently sat down with
Access Hollywood
.
He talked about American Idol returning to TV in January - and noted that despite five seasons of picking through the country's most talented and untalented pool, the sixth series will still be packed with drama.
"When we set out to audition the contestants this year I think some of us thought, what's gonna be left? We've done this for so many seasons and we were fulfilled," he said. "We saw plenty of naïve talent [and] we saw plenty of good talent, so it's gonna make for a very, very dynamic audition series."
Seacrest said this year he's gotten fairly good at spotting contestants who audition for the exposure despite a lack of talent. He also found, especially on the West Coast, a large number of candidates who were unaware they had singing deficiencies.
"I know in Seattle specifically we got tired of a few of these contestants that were just from another planet," he told a gathering of reporters Thursday. "We have been surprised this year that even those who we thought were putting us on we're really naïve and believed they were talented enough to make it to a second round of the show."
American Idol also came across a rather determined group of auditionees during try-outs.
"You will see some of the most aggressive contestants," Seacrest noted. "More so than ever, the contestants who came out to audition came out to win and will let nothing stand in their way."
But enough about the talent pool. Ryan weighed in on what we can expect from Judge Simon Cowell, too.
"He's become grumpier," Seacrest said. "It's strange because he's getting richer, but he's getting grumpier. It doesn't seem like it adds up."
Matt Richenthal is the Editor in Chief of TV Fanatic. Follow him on Twitter and on Google+.