David Della Terza is the creator of the website VoteForTheWorst.com. To say he doesn't like American Idol would be putting it lightly.
The man hates our favorite show.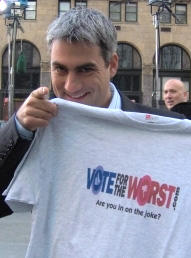 He recently talked to Buddytv.com about reasons why. Click here to read the entire interview - and read more below to find out whether or not he hates ALL Idols:
We don't loathe all of the contestants, we love certain people from the show. We love the Brenna Gethers, the Kevin Covaises... people who just entertain us and remember this is just a silly television show. I personally love Brenna, Kevin, Taylor, Scott Savol... just about everyone we've voted for. I hate Kellie Pickler though. She's obnoxious.
And as much as I love bad music, there's absolutely no way I would subject my poor ears to Claiken's Christmas music. Though just so I don't get an inbox full of angry letters from idiot Claymates... Man, I love Clay Aiken's album. It's so... OK, I can't do it.
Matt Richenthal is the Editor in Chief of TV Fanatic. Follow him on Twitter and on Google+.