American Idol has been solid so far this season. But MTV.com recently talked to a few insiders on how it could be even better ...
Taylor Hicks, season-five winner: "I would probably allow people to play instruments. For me, there's a couple different aspects to my entertaining, two of them being harmonica and guitar. That could be a cool possibility."
Randy Jackson, American Idol judge: "I could definitely live without [the celebrity guest judges]. I mean, the show works because it's the three of us on the panel, and what we do and how we interact. I think when people come into the arena that we judge in, it's often a little awkward and a little hard for them. I think people look at the show as a fan and go, 'I could do that. I'd love to be there.' It's almost like saying, 'I could be a pitcher.'
Actually, I couldn't. I don't even know if I could pitch Little League. I mean, yes, you could do it, but is it going to be great or are you just there for the TV face time?"
JoJo Wright, on-air personality at KIIS-FM, Los Angeles: "Give out a William Hung Award [to the worst singer] at the completion of the audition process. Perhaps have William Hung present the award, himself."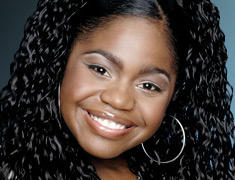 Paris Bennett
, season-five finalist, pictured: "I love that people can call in and vote, but that is very, very controversial. So I'd redo the voting thing. And the genres they pick — our show was good, but we had these slow weeks, love-song week, and sometimes they're stupid."
Bryan-Michael Cox, songwriter/producer (Mariah Carey, Chris Brown): "I would focus more on the positive in the beginning. We think the negative stuff is hilarious, but when you're in the process of launching careers, you shouldn't take the seriousness out of it. You know, William Hung got a record deal, but that could have gone to someone with talent who could be building a career right now."
Todd Brabec, executive vice president/membership, American Society of Composers, Authors and Publishers (ASCAP): "It would be great to integrate contemporary songwriters into the show who can help write original material specifically suited to the finalists. They could show a behind-the-scenes look at the songwriting process and how it helps to shape the artist. I understand the producers are introducing a national songwriting competition into the mix this year, and that is a step in the right direction."
Ace Young, season-five finalist: "I'd change the food they gave the contestants. We didn't get much for breakfast, it was all crescent rolls and fruit. And I'd change the sleeping arrangements. We slept on beds smaller than a twin mattress and I shared a room with Chris [Daughtry] with my feet hanging off the bed. That was the worst thing about the whole deal."
Greg Wells, producer (Deftones, the Pussycat Dolls): "If I ran American Idol, I would immediately ban all Broadway show tunes from being performed."
Matt Richenthal is the Editor in Chief of TV Fanatic. Follow him on Twitter and on Google+.