With a new look and new sound, Katharine McPhee is promoting her debut release, which hits stores on Jan. 30.
During a wide-ranging, exclusive interview with AOL Television editor Geoff Bennett, McPhee opened up about her new album, an upcoming role on Ugly Betty, and what was really going through her mind during the American Idol finale.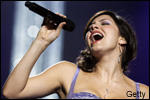 AOL has exclusive excerpts of your new CD, and I have to admit I was expecting it to be Streisand-lite. But it's way more Beyonce than Barbara. How difficult was it to make a CD so different from what people would expect?
You know, on the show, you're just trying to get by. I didn't necessarily think that if I chose a song, it was also the kind of sound my record was going to take. I was just thinking about Katharine the competitor, not Katharine the recording artist. When it was time to make the record, it wasn't hard to make the decision; it was hard to communicate that to everybody. If anyone ever asked me what kind of record I wanted to make, I'd always say a pop/R&B record.
But those aren't the songs you chose on the show.
On American Idol, I kind of went with what was naturally safe for me. People are like, "Oh, she made such a different record than we thought." But no one really knows what kind of artist you are going to end up being. No one really knew that Kelly Clarkson was going end up being pop/rock. With Chris Daughtry, it's great because he had a direct vision. But it's different for everyone.
So you feel like it's an accurate representation of who you are as an artist?
Yeah, it's my first record, so I think my second - if, God willing, I get another chance to make another - you'll find more pieces that are really me. It can't be a perfect record; it's the first. It was made really quickly and all that kind of stuff, but I'm really proud of it, and it definitely expresses who I am.
You have a couple dance tracks on there. Are you going to dance in your videos or on tour?
I don't think I ended up with as many dance tracks as I wanted. (Laughs) But I'd really like to.
I imagine you spent a lot of time envisioning what being a pop star would be like. What's been the biggest surprise?
Well, there's a lot. For me it was [realizing] all the people who are involved in making the record and how long it really does take to just sing a line [while recording]. A producer will make you sing it over and over and over again. And as an artist, you do a lot of photo shoots. And it's amazing how many people are standing behind the camera to make you look beautiful. It's so glamorized, and [in reality] it's just really not. You hear celebrities say that all the time, but you really just don't understand it until you are in that position.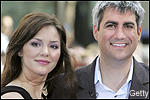 And how will American Idol figure into your future? Will you try to distance yourself from it?
I would love to come back this season. I know where I came from, and I'm really grateful and excited to see the people I was with for nine months. Your credibility, if you become successful, will come.
Kelly Clarkson
has made herself very credible and accepted. And I don't think there's any rush to separate yourself. I think people are accepting 'Idol' more and more as a legitimate competition for talent.
Do you think it's even important to win anymore? I mean, what benefits did Taylor get that you didn't?
Well, at the moment, really nothing. (Laughs) I mean, I think it just depends on luck or destiny. But look at Chris. He's doing amazing, and Jennifer Hudson won a Golden Globe. So I think you don't have to win to do really well. I think you need to make an impression, though.
Matt Richenthal is the Editor in Chief of TV Fanatic. Follow him on Twitter and on Google+.