Katherine Heigl Criticizes Remark, Would "Throw Down" For T.R. Knight
Steve Marsi at .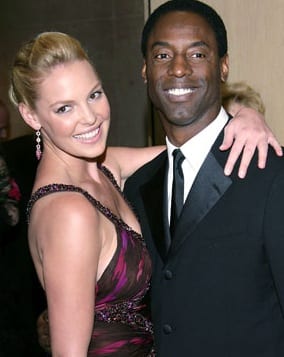 It's the feud that wouldn't die.
Much as we would love to stop writing about this incident, the parties involved (and, to some extent, the mainstream media) make it impossible to ignore.
That's right, as many fans already know, there's trouble brewing among the cast of Grey's Anatomy. Again. And this time, another cast member - Katherine Heigl - is in the fray, albeit voluntarily.
At the Golden Globe Awards Monday, Heigl slammed co-star Isaiah Washington for using a slur regarding fellow cast member T.R. Knight, who he was denying using said slur against in the first place.
At issue was a statement Isaiah Washington made in the Golden Globes press room when he was asked about the alleged on-set incident between himself and Knight last fall, which preceded Knight's public coming out.
"No, I did not call T.R. a faggot," he said, according to Access Hollywood. "Never happened, never happened."
Heigl, who is close friends with T.R. Knight, criticized Washington's statement.
"I'm going to be really honest right now, he needs to just not speak in public. Period," she said. "I'm sorry, that did not need to be said, I'm not okay with it."
Asked if Knight's feelings were hurt by the comment, she said: "I don't see how you could not be under those circumstances."
Heigl, who was nominated for Best Supporting Actress in a Drama Series (Grey's Anatomy was named Best TV Drama), added that she didn't know exactly what to make of the comment, but hoped the cast would work through the incident like a family.
"I have no idea what it was, I just find it hurtful... I just feel like this is something that should be very much in house we need to deal with and it's among us, the cast and crew and among Shonda Rhimes (the show's creator) and the producers," she said.
Still, she was adamant that she'd stand up for Knight anytime.
"I don't think [Washington] meant it the way it came off, but T.R. is my best friend. I will throw down for that kid. I will beat you up. I will use every ounce of energy I have to take you down if you hurt his feelings," she said.
For his part, Washington continued to address questions about the alleged on-set incident, later telling Access Hollywood:
"There is no way I could do anything so vile, and so horrible, not only to a castmate, but to a fellow human being. It did not happen. The reports were all wrong... I'm very disappointed that the New York Post actually wrote legitimately about something that was put in a tabloid about some angry person to get some validity to this, and then it just rippled."
He also said that he has completely made up with fellow co-star Patrick Dempsey after a scuffle prompted the alleged remark about Knight.
"I kiss Patrick Dempsey," said Washington. "We sing 'Ebony and Ivory' every day since the so-called incident and it hasn't come up."
Steve Marsi is the Managing Editor of TV Fanatic. Follow him on Google+ or email him here.