He may have captured and broken multiple hearts as Dr. Derek "McDreamy" Shepherd on
Grey's Anatomy
, but one of show's handsome stars,
Patrick Dempsey
, has a steady domestic life.
"Fatherhood is the most important thing. Everything else is a joke," he tells Life magazine in its new issue, which features him on the cover.
Dempsey says his priority in life is being at home with his wife, Jillian Dempsey, a makeup artist and stylist, and the couple's 4-year-old daughter, Tallulah.
They are also expecting twin sons this winter.
"Now, making money is about providing for my children. And being a father makes you look at yourself," the 41-year-old said.
"You look at your marriage and go, 'How do I improve this? How do I keep growing and create a stable environment for my children?'"
One way, he reveals, is to go to couples therapy.
"Yeah, we go in for checkups and go 'Hey, here's what we need to work on,'" he says. "We've had a very good relationship from the beginning, but you run into things you have to work through."
He also adds that therapy, while it often scares couples away, is a lot easier than fighting with someone.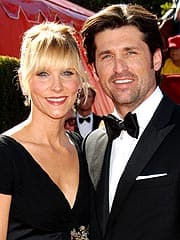 There are also some remedies that he delivers at home.
"Reading to my daughter has been therapeutic," says Dempsey, who has fought a lifelong battle with dyslexia.
"I've gone back and started to learn to read on a very basic level. I'm reading Dr. Seuss, and I'm healing that part of myself, as well as developing my daughter."
It's so nice to see that the Grey's Anatomy star is not only great looking, talented and fun to watch on screen, but a good role model in real life.
Steve Marsi is the Managing Editor of TV Fanatic. Follow him on Google+ or email him here.