Nothing new here. Just a retrospective look by People at the runners-up in American Idol's brief history. These five singing standouts may have come in second, but they're still Idols to millions. Well, sometimes.
Here's the magazine's photo feature of the fabulous five who dazzled us on American Idol and (almost) went all the way.
KATHARINE MCPHEE / American Idol Season 5 Runner-Up
After opening up about her struggle with bulimia, Katharine McPhee became a role model not just for her voice (which Simon Cowell called the "best of the competition" in 2006), but for her courage. The 22-year-old, who has found love with actor Nick Cokas, will release her self-titled debut album on January 30. "I am just the person who didn't want to settle for not having everything I dreamed of," she says.
BO BICE / American Idol Season 4 Runner-Up
Bo Bice, who lost the 2005 title to country sweetheart Carrie Underwood, has been enjoying his family life with wife, Caroline Fisher, and 15-month-old son, Aiden. The rocker is also working on a follow-up to his 2005 chart-topping debut, The Real Thing. "They allow me to go out and pretend I'm a rock star for three-quarters of the year, and when I get home, they ground me," said the candid, often self-deprecating Bo Bice.
DIANA DEGARMO / American Idol Season 3 Runner-Up
Second to Fantasia Barrino in 2004, DeGarmo released her debut album (Blue Skies) at only 17 years of age. She's found greater footing, however, in the field of musical theater. "It's led me ... where I want to be, a singer for the people," she told the Dallas Morning News in July. Diana DeGarmo won raves last year as Penny Pingleton in Broadway's "Hairspray," and is back with the show after doing a summer tour with Brooklyn: "The Musical."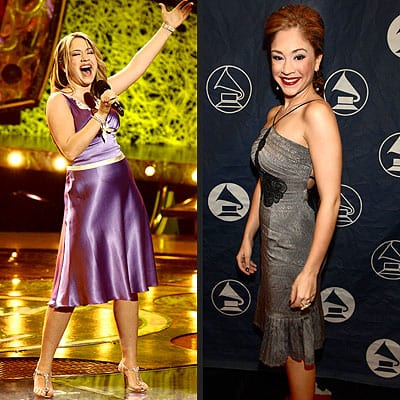 CLAY AIKEN / American Idol Season 2 Runner-Up
Yes, we are forced to do a double-take every time we're reminded he didn't win. Ask the "Claymates" - his legion of fans - and they'll tell you the same. The 28-year-old North Carolinan, who recently released his third album, A Thousand Different Ways, is known for his sharp wit and big heart. And oh, that voice. But there's something else Clay Aiken would like to accomplish: starting a family. "I want to be a father so badly," he told People in September.
JUSTIN GUARINI / American Idol Season 1 Runner-Up
He once described his post-American Idol career path as a "free fall," but despite his setbacks, Justin Guarini (who lost to Kelly Clarkson in the show's 2002 first season) hasn't given up. He's currently at work on a follow-up to his recently released jazz album, Stranger Things Have Happened, and is filming a comedy, Fast Girl. "To be able to go around the country and keep making music, the one overriding emotion I have is gratitude," he said.
Matt Richenthal is the Editor in Chief of TV Fanatic. Follow him on Twitter and on Google+.