At a cozy downtown hair salon in New York City, a stylist was buzzing about Teddybears and Peter Bjorn & John, two bands he heard the previous night. But he didn't get tuned in to the tracks at a hip club or on the radio - it was on ABC's hit medical drama, Grey's Anatomy.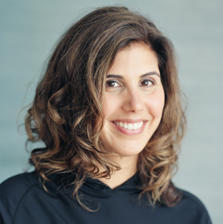 According to an article in today's
New York Post
, that's all thanks to Alexandra Patsavas (right), a 38-year-old independent music supervisor and the sonic treasure hunter behind
Grey's Anatomy
, as well as other shows.
Because of the popularity of these programs, and the high priority they put on good music, getting Patsavas' ear is as important as scoring a spot on MTV or a Top 40 radio station.
One beneficiary was the group Snow Patrol, which was featured in Grey's Anatomy's emotional season finale, "Losing My Religion."
The song plays as Izzy lies on the bed of her dead fiancé, Denny Duquette. Patsavas chose Snow Patrol's acoustic version of "Chasing Cars" as an emotional counter note, and the band received a huge national boost.
Another beneficiary has been The Fray, whose track "How to Save a Life" was featured on Grey's Anatomy and is now a smash hit.
To find the right tune, Patsavas pores over 400 CDs a week.
"I just get through it. Really bad music reveals itself quickly. And the good stuff - when you hear it, you know it," she said.
She compiles the best tracks for the producers to hear in "the cutting room or the car."
Sometimes the Grey's Anatomy music is already in the script. Other times, she'll pitch a song after reading the script or after the show's been shot and edited.
"There's really no formula. I keep the signature sound for a show in mind, pitching certain songs for an operation scene or a date scene," she said.
Patsavas has been a music junkie forever. In the '80s, she had an asymmetrical haircut to go with the new-wave scene. As a student at University of Illinois, the go-getter started her own business and booked indie bands, such as Nirvana, Love & Rockets and Jane's Addiction.
She moved to L.A. to be a booking agent, but changed her tune when she discovered that music supervision was a career option.
After a stint at BMI, she worked for legendary B-movie maker Roger Corman ("A Bucket of Blood" and "Rock 'n' Roll High School"). To stretch her limited budget, she turned to her beloved indie bands for soundtracks.
In 1998, she started her own company, Chop Shop. Her first TV show was Roswell, which starred current Grey's actress Katherine Heigl. There, she licensed acts such as Doves, Coldplay, Radiohead and Ivy, then went on to work on Boston Public, Without a Trace and Rescue Me.
Currently, Patavas programs for six prime-time shows - including The O.C., a huge program to break alternative bands.
"The O.C. has been such an amazing experience. Those kind of shows don't come along very often. Music is a character on the show, and that is what's different," she said.
For The O.C., she also has suggested bands (such as the Walkmen and Death Cab for Cutie) to play live at the fictional hangout, the Bait Shop.
The O.C., which was recently moved to Thursdays opposite Grey's Anatomy, was cancelled last night, with the final episode scheduled for February 22.
Since 1994, when the Flaming Lips appeared on Beverly Hills, 90210, the stigma attached to performing on the small screen has all but disappeared.
"In the old days, a TV sync was perceived as not so cool or whittling away at your indie cred," Patsavas said. "Now it's seen as much more of an opportunity than a sellout, as a way to find fans who wouldn't have ordinarily come across their genre of music."
Steve Marsi is the Managing Editor of TV Fanatic. Follow him on Google+ or email him here.