Every week, TV Guide's Kimberly Caldwell and Rosanna Tavarez, the hosts of TV Guide Channel's Idol Chat and Reality Chat (both pictured here) will discuss the latest happenings and outlook for American Idol.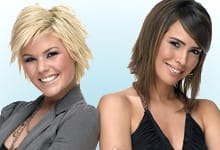 Kimberly, of course, was a Season Two contender. Below, her and Rosanna weigh in on the "too mean" controversy, the importance of first impressions, and the first clue that a contestant might be just a bit unbalanced.
TVGuide.com: Rosie O'Donnell, for one, last week slammed Idol's new season as "too mean." Many have countered that the singers know what they are getting into. What's your qualified point of view on the current level of meanness?
Rosanna: In so far as the kids who walk in with the extravagant and insane costumes, they know what they're getting into. They knowing they're being shticky. You can't walk in with a costume and not be laughed at. Now, the kids who genuinely feel that they are talented but sing off-key or have no stage presence, do they deserve to be criticized as harshly? No. But I could see how by the 200th contestant who walks in not singing well, the judges' patience is just wearing thin!
Kimberly: I feel like Paula is definitely more up front and more real about it, probably because it's been six years of thousands and thousands of people coming in thinking that they're the one, that they really have a shot. At the same time, Simon's probably enjoying it, because it's good TV and it's his show.
TVGuide.com: The day that Paula, Simon and Randy all become Pollyannas is the day that American Idol draws "just" 10 million viewers.
Kimberly: Exactly.
TVGuide.com: As I watch these first rounds, especially the singers with more promise, I have to remind myself, "One of these people could end up being the next American Idol." What do you remember of, say, Taylor Hicks' early auditions?
Kimberly: I remember going, "That guy's not going to win." [Laughs]
Rosanna: I thought the same thing, but for some reason my mother, who's a big fan of Michael McDonald's, was like, "You'll see. He's going to win." And after every performance she'd call me and say, "He's going to win." I was like, "Mom, sorry, but you're, like, in your fifties and... I don't think so." But he won, and I had to eat my words.

TVGuide.com: So, who are your favorites from Season 6, Week 1?
Kimberly: "Crack Baby."
Rosanna: I like Crack Baby, too.
Kimberly: I hate calling her that, but what else do you say?
Rosanna: She called herself a crack baby. [Editor's note: Crack Baby's real name is Denise Jackson.]
Kimberly: She was like wow. She was absolutely amazing, absolutely beautiful, and she's going to look awesome when they give her a makeover and "Hollywood" her up.
TVGuide.com: Was there anyone who has the look but the singing isn't quite there, yet has potential?
Rosanna: I like the girl from Barranquilla, Colombia. She definitely has the look.
TVGuide.com: Perla Meneses, the one who sang Shakira?
Rosanna: Yeah. I liked her voice, too. She wasn't phenomenal, but she had great stage presence, and she seemed really playful.
Kimberly: I think she definitely has an advantage because Simon was like, "She's great fun! Isn't she great fun?" I'm like, "You're just looking at her bottom," but that's cool.
Rosanna: I think that's what Paula told him!
Kimberly: But she is absolutely stunning, and I think in the right genre she'll be very good.
Matt Richenthal is the Editor in Chief of TV Fanatic. Follow him on Twitter and on Google+.