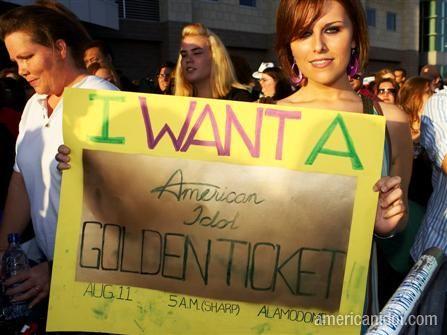 It's our last show before viewers receive their golden ticket and head off to Hollywood with the rest of
American Idol
hopefuls. Let's see how it goes ...
Most jeg-lagged: Simon Cowell. He's also changed spots with Randy. We're scared and excited.
Most fawned over: Haley Scarnato. First, Ryan says she has the face for a CD cover. Then, Paula talks to her about fashion like her BFF. Most impressively, Simon is speechless looking at her. Oh, and she sings Bonnie Raitt pretty well.
Least biggest fan of Seabiscuit: Baylie Brown. This wanna-be city girl is headed to one of the most well-known in the world: Hollywood. We like her pluck. Move over, Kellie Pickler.
Coolest cousins: The first one couldn't sing, but we enjoyed William Green and Akron Watson. The former's faux anger at the judges was hilarious - and the latter could actually carry a tune. Just take your funny relative with you to Hollywood, Akron.
Toughest: Ashlyn Carr. Anyone who will go through a concussion in order to follow her singing dreams deserves a chance - and maybe a singing coach. You know, someone who will work on those weird faces.
Most Studdard-like: Jimmy McNeal. Wow, a decent audition to end the show. That's new. And welcome. Maybe Cupid had something to do with it.
Matt Richenthal is the Editor in Chief of TV Fanatic. Follow him on Twitter and on Google+.