The time has come, American Idol fans. Beginning tonight, the competition truly kicks off, as we take over the voting. Let's see how the top 12 men do, shall we?
8:02 - Ryan Seacrest calls this the "weirdest audition tour ever." Awww, we bet he says that to all his audiences.
8:04 - Randy Jackson has been taking heat this season? That's news to us, too. Hang in there, dawg.
8:10 - Kicking off the festivities? The lead singer of M-Pact, Rudy Cardenas. The man certainly has spirit; too much, perhaps. At the very least, Ryan has competition for Metrosexual of the Night.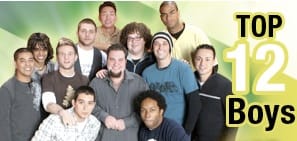 8:14 - Don't boo Randy, people. You didn't think that performance was corny?!? Simon makes a good point about lacking originality ... but there are worse things than the audience having a good time.
8:16 - Brandon Rogers is next. Don't turn that channel! (Unless you have money on Wisconsin vs. Michigan St. Then you can go check the score ... but hurry back.)
8:20 - The OC is coming to an end Thursday. We have mixed feelings about this. Complete and utter joy? Or unabashed ecstasy?
8:21 - Chris Sligh keeps talking about people looking "pretty." And Ryan pretends that he's glad they're sitting on different couches.
8:25 - Paula's hair is more all over the place than her critique of Brandon. All judges seem to agree that he's talented, just needs to learn how to make an impact on stage as a lead singer. He'll be back, though. Better be at least.
8:27 - Sundance Head admits that he was scared in Hollywood. And embarrassed by the results. Let's see if he can redeem himself.
8:28 - Uh-oh. Paula can't even find anything positive to say. Sundance looks seriously despondent. It's like someone just threatned to shave off his bushy goatee.
8:34 - Wisconsin 47, Michigan St. 45.
8:37 - There's no pressure at all on Paul Kim. Just the hopes and dreams of Asians everywhere.
8:39 - Kim sings that he's "never gonna dance again." But will he sing again for viewers? After Randy calls his third straight contestant "pitchy," Paula urges voters to give Paul a chance. Simon disses the man's bare feet.
8:43 - Let's see if Chris Richardson can live up to his Justin Timberlake comparisons. Good luck with that, buddy.
8:46 - Randy likes his "flavor." Paula enjoys the man's "arrangement." And Simon at least apologizes for sounding "negative." All a good sign for Chris.
8:49 - Michigan St. 56, Wisconsin 51.
8:53 - Stop telling people about your
American Idol
website, Ryan! Ours is better, readers!
8:56 - Nick Pedro is up. From the sound of it, though, he may be down for awhile after tonight. Except that he does have that Napoleon Dynamite thing going. People love to Vote for Pedro.
9:00 - Michigan St. 64, Wisconsin 55. Dang.
9:04 - Step right up,
Blake Lewis
(pictured). Let's see if you can do more than just make cool sounds.
9:05 - You can.
9:06 - Is anyone not "pitchy," Randy?
9:14 - Sanjaya Malaker says her sister is doing okay. She didn't die, people. But Sanjaya is getting killed by the judges.
9:24 - Let's hear it for Jack Osbourne Chris Sligh. He makes us laugh. Randy and Paula are in the Chris camp, too. Good. Let's pass our man through, America!
9:28 - Whoa. Ryan is angrier than Sanjaya Malakar fans right now.
9:35 - Jared Cotter says the country hasn't seen him yet. The man makes a good point. Now is his time to shine.
9:37 - Combining the judges' opinions, Jared is a younger, unadventurous version of Brian McKnight. And he dresses well.
9:39 - And speaking of contestants that have flown under the radar, we present: A.J. Tabaldo.
9:41 - "You kind of worked it out in your own kind of way." Thanks, Randy. Ummm ... did Paula just mime an orgasm?
9:49 - Phil Stacey closes the show. Hard to figure out if that gives him an edge or not. Guess it depends on how the new father sounds.
9:51 - So, Phil could not ask for more. And apparently neither can Randy or Paula. They're battling over the best compliment.
9:53 - Ryan actually makes a good Britney Spears joke. We'll end with that before he comes to blows with Simon ...
Matt Richenthal is the Editor in Chief of TV Fanatic. Follow him on Twitter and on Google+.