No, seriously.
Here's part of a press release from Dreyer's Slow Churned regarding its American Idol-themed product:
Watch out Idol fans, five new contestants are taking the stage and vying to be cream of the crop! Dreyer's Slow Churned is debuting its first-ever AMERICAN IDOL ice cream flavors. Ice cream lovers are urged to cast votes for their favorite flavors - offering glitz, glam and Hollywood fun for the whole family.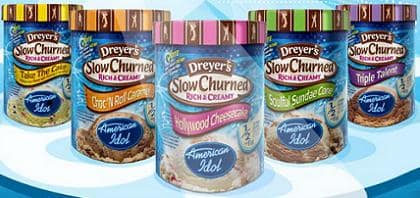 The toughest Idol competition this season may be on freezer shelves: will Choc 'N Roll Caramel melt the hearts of Americans or will Hollywood Cheesecake strut its way to victory? Perhaps it will be the smooth groove of Soulful Sundae Cone that steals the spotlight. But, don't rule out the melodious trio of Triple Talent and watch out for the cool sounds and hot moves of Take the Cake - basking in confetti sprinkles.
David Luner, SVP Interactive and Consumer Products, FremantleMedia Licensing Worldwide, North America, licensor for AMERICAN IDOL added:
"We're always looking for fun new ways to engage fans of the show and this campaign is a perfect fit. You can't get much more popular than AMERICAN IDOL and ice cream. Put the two together and you've got a real show stopper!"
So there you have it, fans. Put aside the stress of deciding betwee Sundance Head and Paul Kim for a moment. There are other, yummy choices to be made.
Matt Richenthal is the Editor in Chief of TV Fanatic. Follow him on Twitter and on Google+.