He may look different than your typical American Idol contestant - but Sean Michel sings like a top contender.
Reality TV magazine recently sat down with the crooner ...
Reality TV Magazine:Â  What made you decide to audition for American Idol?
Sean Michel:  I didn't even decide to go until about 3 a.m. before the audition, as I had only just heard about it.  Initially, the reason I went was to hang out with some friends I hadn't seen in a while who were also trying out (Rob and Tami Griffith) and also because it would be a funny story to tell.   Also, it didn't hurt that I had some Memphis BBQ to look forward to.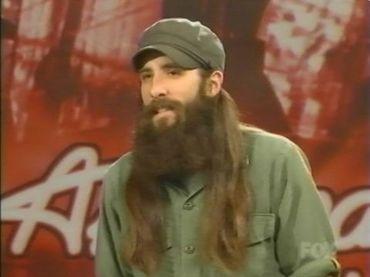 Reality TV Magazine
:Â  When did you start singing?
Sean Michel
:  I have been singing my whole life.  My mom used to sing in the church choir, and she was really my inspiration to start singing.
Reality TV Magazine:Â  What is your favorite genre of music?
Sean Michel:  I listen to a lot of black gospel.  I also listen to a lot of indie rock bands.   I don't really stick to just one genre I guess...

Reality TV Magazine:  According to your MySpace page, you are in a band.  What is the status of us your band as you take part in American Idol?
Sean Michel:  The rest of the guys in the band support this whole American Idol thing.  They've helped me with my interviews and have been there to pray for me and support me.  I'm not a solo act, and they know how much they mean to me.

Reality TV Magazine:  The songs on your MySpace page are very spirutual in nature.  Is there a message you are trying to deliver with your songs?  Can you tell us more about the message?
Sean Michel:  The message I want to deliver is that all of us are in desperate need of something more out of life.   And while we struggle after it in vain, God has appeared to us as a man to bring us to that very life we were always meant to live.  I want to let people know there is another level to living that is only found when we lose ourselves to Jesus Christ.
Reality TV Magazine:  At the Memphis auditions, you looked and dressed like Fidel Castro.  Can you explain your look?
Sean Michel:  This is just how I look.  I'm not trying to look like anyone else.  I just happen to like the look of a long beard and long hair.  As for the hat, it was a gift from one of my real good friends a few years back, and its fits my head perfectly so I wear it a lot.  The military looking shirt was just something I found at a thrift store once.  I don't own a lot of shirts...it just happened to be the one I picked out at 3 a.m. before we left.

Reality TV Magazine:Â  Is there anything else that you would like to tell our readers?
Sean Michel:  Oh, I'm sure I could go on an on.  But I guess what I really want to say is that I'm an artist.  That means a lot of things to me.  First, I find a connection with my Creator as I am involved in the creative process of my art.  And so my art, my songs, are meant to dig down deep in the soul of those who listen, so that it reflects that connection between me and God.
It also means that there is a lot more that goes into a song than just hitting some notes.   I want to craft every moment of singing a particular song so that I put my heart out there, not just my voice.  And finally, I hope that anyone who sees or hears me sing will have no doubt that I have shared in the redemption of sins offered by Jesus Christ, because there is nothing else that I know to sing about that moves me so much as this.
Matt Richenthal is the Editor in Chief of TV Fanatic. Follow him on Twitter and on Google+.