While some American Idol contestants might fear the bite of Simon Cowell, at least one alum is grateful for it.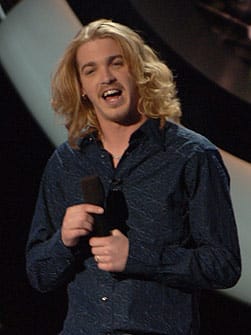 "Because of him being mean, millions of people watch that show," said
Bucky Covington
, who finished eighth last season. "So I say 'thank you' for being mean. You turned on a lot of people to this show, and because of that a lot of great things happened to me."
Cowell and fellow judges Paula Abdul and Randy Jackson have been accused of being nastier than usual this year on News Corp.'s Fox network talent show, pouncing on some of the more awful Idol wannabes during auditions.
Covington, 29, says he doesn't agree.
"I didn't see them being really nice to me - no pushovers, you know," the Rockingham, N.C., native said recently. "I never knew Simon to be nice. If you said, 'Hey, Simon is being nice this year,' you would have caught my attention. But being mean is just what I expect. It's what he does. It's his job."
Covington's self-titled debut album on Lyric Street Records will be released April 17. The first single, "A Different World," is rising on the country charts.
Bucky  said he got everything he wanted from his America Idol experience.
"I didn't really think I was gong to win it. I wanted to be heard and get noticed," he said. "The most stressful thing for me was after this show is over, what's next? Is it back to painting cars? Is it playing clubs? Or is it a career starter?"
Matt Richenthal is the Editor in Chief of TV Fanatic. Follow him on Twitter and on Google+.