After her American Idol audition, Porcelana Patino was best known for sounding like Shakira.
The Queens native wishes that were still the case.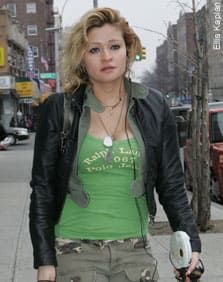 Instead, the hopeful singer has been spending time in the hospital, taking care of her father after a hit-and-run driver mowed him down the very night FOX aired the episode showing her winning the judges' hearts.
As millions watched her wrench a begrudging, "Well done, sweetheart," out of Simon Cowell on Monday, Patino, 27, was at her father's side at Elmhurst Hospital just hours after he was tragically struck on his way to work.
"The day everybody in the world sees the freaking show, I was here. I got a taped copy," she said yesterday after leaving her father's room. "I'm on the ICU floor with my dad, and everybody's like 'I just saw you on American Idol.' Is that you?' I have no makeup on and I'm bawling."
Patino impressed the judges in the New York auditions when she described the yearlong workout routine she used to shed 20 pounds to be fit for the show and then ripped through a brassy version of Mary J. Blige's "Love Without a Limit."
"I think you are pretty awesome," Paula Abdul cooed afterwards.
But Patino says she has put all Idol thoughts out of her head for now as her father, Mario Astudillo, 53, begins his long recovery from the broken shoulder, leg and ribs he suffered when he was hit.
We wish them both the best.
Matt Richenthal is the Editor in Chief of TV Fanatic. Follow him on Twitter and on Google+.