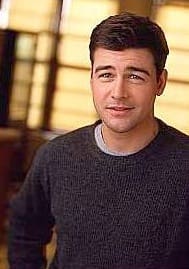 Actor Kyle Chandler sure knows how to make an entrance.
On the riveting Febuary 15 episode of Grey's Anatomy, "Drowing On Dry Land," Dr. Meredith Grey woke up in what appeared to be the afterlife.
She immediately spotted two of Seattle Grace Hospital's most famous former patients: Izzie's dead fiancé, Denny (Jeffrey Dean Morgan) and Dylan (Kyle Chandler), the bomb-squad captain who a year ago exploded into "pink mist."
An hour or two before the highly rated February 22 episode of Grey's Anatomy ("Some Kind of Miracle") finished off its surprising Denny-Dylan story line, a helmeted figure roared up to the set of the new NBC drama Friday Night Lights on a motorcycle.
Tucked into the biker's black leather jacket was an adorable white-and-tan terrier. Even before the motorcycle guy took off his helmet, he had already scored major coolness points.
It was Kyle Chandler, arriving for a night shoot outside Austin, Texas, for the show, on which he stars as Coach Eric Taylor.
Taylor and Friday Night Lights may be the darling of the TV press these days - the Chicago Tribune, from which this story is taken, calls it one of the best network dramas.
But Chandler said in an interview the next day that despite his great love for Friday Night Lights ("It's the best experience of my life by far in television," the actor said), the handsome, brave Dylan Young is still is the character that garners him the most recognition.
"That show's got so many viewers - it was interesting, even after the first episode [on February 15], where I just said, 'Hey' at the very end of it, I had more people coming up to me, going `You're back, you're back'" he said.
Or, according to the actor, they'd just say, as Dylan did, "Hey."
Before that episode aired, news leaked that Denny would be back on Grey's Anatomy in some capacity. But Kyle Chandler's appearance on the show took viewers by surprise - you could almost hear the collective gasp when he reappeared in the closing moments of the hit medical drama.
As for where those Meredith-Denny-Dylan scenes took place, well, maybe "
afterlife
" isn't the right word.
"This … wasn't a typical Grey's," Marti Noxon, who co-wrote the February 22 episode, said. "Half of it takes place... where? In Meredith's head? In heaven? We decided, for obvious reasons, not to get too specific."
In a world of constant online spoilers, it was cool that nobody saw Dylan's appearance coming. Chandler said at first, even his own Friday Night Lights crew members didn't believe he'd been on Grey's Anatomy again.
"A lot of people here are ticked off" that they didn't know in advance, Chandler said, though given the general laid-back nature of the show's Austin crew, "ticked off" probably meant "gave him a gentle ribbing."
One crew member said, "Why didn't you tell me, I got into an argument" with someone saying Chandler had been on
Grey's Anatomy
, Chandler said with a slightly bashful grin. "I just never said anything. I guess you don't talk about stuff like that."
Chandler filmed his scenes for the February 15 and February 22 episodes of the show over a long weekend in Los Angeles, Grey's creator and executive producer Shonda Rhimes said.
"I was glad to see Kyle Chandler, who was gracious enough to fly out here and film on one of his very few days off from the very well-written Friday Night Lights," she wrote on her official blog.
It's partly thanks to Grey's Anatomy that Chandler got his role as Taylor on Friday Night Lights. He was shooting the post-Super Bowl episodes ("It's the End of the World... As We Know It") in the same location where Peter Berg was casting Friday Night Lights, and he met with Berg, the executive producer, around that time. The rest is history.
"It surprised me when [Grey's Anatomy] said they wanted me back on the show," Chandler said.
But it was certainly time well spent. Meredith's conversations with Dylan, Denny and other former Seattle Grace patients made for compelling drama.
Still, Chandler's favorite scene, aside from the playfully argumentative moments between Denny and Dylan, was when Richard Webber (James Pickens, Jr.) said a heartfelt goodbye to Meredith's deceased mother, Ellis Grey. He really knocked that scene out of the park, as Pickens quietly does on a regular basis.
Steve Marsi is the Managing Editor of TV Fanatic. Follow him on Google+ or email him here.