More on Tonight's Episode From Seattle
Steve Marsi at .
Earlier this week, we talked a little about the Seattle ferries and their role in the three-part extravaganza that starts tonight with "Walk On Water." Here's some more dirt on the episode, courtesy of Seattle's KOMO-TV: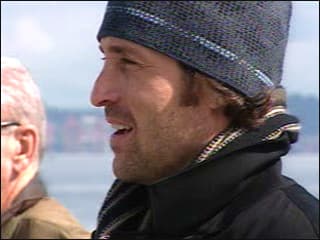 This week's episode of the
Greys Anatomy
will put Seattle's Coleman Docks in the spotlight as the scene of a major disaster.
The Coleman Docks attract a fair share of tourists, but it's not the most exciting place in Seattle for locals. Naturally, Hollywood has concocted a totally different take on the Docks.
A storyline involving mass casualties and chaos at the Coleman Docks will unfold on Thursday's episode of Grey's Anatomy, and the doctors (including Dr. Shepherd, played by Patrick Dempsey, pictured) will come to the rescue.
"Some of it's going to be here on the ferry, and some of it's going to be here on the north holding lanes," said Jayne Davis, with the state ferry system.
The actors won't talk specifically about what happened, but the ferries will be the focus as the story involves a ferry collision with another vessel.
"They have an encounter with a deep draft freighter vessel, and the incident occurs," said Capt. Kelly Mitchell with the state ferry system.
The ferry system has trained for most disasters and admit the scenario, however interesting, is not likely to ever happen in real life.
"It is very highly improbable, because the vessel is not moving strictly on its own, because the vessel crew and bridge team have multiple radars that can track all commercial vessels," Mitchell said.
There was a lot of give-and-take before the scenes were shot, but as they say in show-biz, any publicity is good publicity.
"The film industry draws people to your city, or your attraction regardless of whether it's a not so pleasant topic," Davis said.
Steve Marsi is the Managing Editor of TV Fanatic. Follow him on Google+ or email him here.