This week on the Round Table, Miranda stirs Chief Resident talk, Izzie and Callie spar (again), Mark swears off sex (really) and Mer gets a little help from the dead in findin the will to live ...
Will Mark last 60 days?
iheartizzie:
Hells. No. I don't think
Mark Sloan
means
to be a bad friend or home-wrecker, but these things happen when your libido is twice the size of Seattle Grace Hospital. You can't teach an old, mustachioed, sex-crazed dog new tricks, people.
Married-to-McDreamy: Yes. I actually do think that he will. I think that he is crazy about Addison (with good reason!) and I think he'll do what it takes.
The only potential problem will be if Addison leaves Seattle Grace for this mysterious new job that we're hearing about...
McCritic: Probably. But someone better hide Olivia from this sex-crazed doctor. And everyone else in Seattle Grace might wanna check their legs periodically for signs of Mark humping.
Which character would you want to come back more: Denny or Dylan?
Married-to-McDreamy: Dylan! That man is so very attractive (sorry, iheartizzie). Who can resist a guy in a bomb squad uniform?
McCritic: Dylan. Denny is a really nice guy and everything, but Dylan saves lives.
With bombs such as the Callie/George marriage and the fight for Chief Resident waiting to explode, we're gonna need someone who knows how to dismantle these devices under pressure.
iheartizzie: TV needs more Denny Duquette. Slightly rugged, drippingly charismatic and full of sage advice. This man needs his own show! Dylan Young has already found is true calling as a West Texas high school football coach. We want more Denny, Shonda Rhimes!
Who will remain in George's life longer, Izzie or Callie?
McCritic: Callie. The vows say until "death do us part," right? Unless Shonda and company have another brain freeze and lamely pretend to kill off another character, the mainstays seem safe for awhile. Izzie better get used to it.
Married-to-McDreamy:
Hmm. This is a tough one. I actually think they both will. Izzie is a good friend, even if she doesn't always handle herself appropriately, and Callie will be a good wife, even if they got off to a rather unusual start.
iheartizzie: Isobel. George even admitted, in the midst of telling the brash Dr. Stevens to back off, that he might have made a mistake. Not a good sign.
Let's just hope Izzie realizes that sometimes, the best way to be there for her BFF is to let him figure his own problems out.
Will Miranda be named Chief Resident?
iheartizzie: Do I heart Izzie? Is the Pope Catholic? Does Patrick Dempsey have the best head of hair in Hollywood?
McCritic: Yes. Maybe not today, and maybe not tomorrow. But someday, and for the rest of her life.
Married-to-McDreamy: Definitely! Dr. Bailey was running the show in that room when they were trying to revive Meredith. Where was that chirpy other woman? Oh right. Standing in the waiting room with a clipboard. No contest.
Did you ever stop believing Meredith would pull through?
Married-to-McDreamy: No. I knew she'd pull through. I wish I did stop believing, though, as that probably would have made the show a little more captivating last night.
McCritic: No. She has too much grit, too much determination, too much of her name in the show's title to drop dead like that.
iheartizzie: Yes. As I said in last week's "Drowning On Dry Land" edition of the Round Table, Meredith had lost the will to go on. I wasn't sure she could recover that as easily as she could make Doc appear out of thin air. Luckily, Denny and Ellis helped our girl come to her senses, just in time.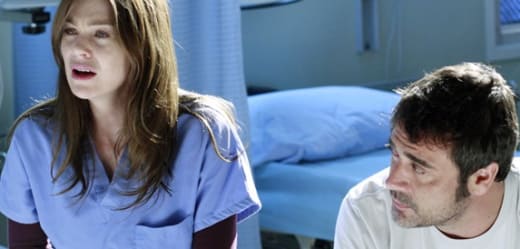 Steve Marsi is the Managing Editor of TV Fanatic. Follow him on Google+ or email him here.