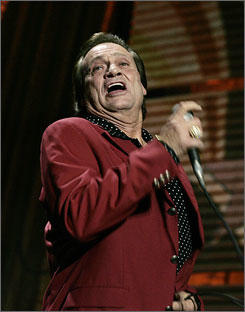 Not only have fans had a chance to listen to
Sundance Head
over the last few weeks - but his famous father
Roy Head
has been back in the news, as well.
Now, the elder Head is being featured in a nationwide newspaper. Here's the article from USA Today:
Having his son appear on American Idol has turned out to be one of the best things that could have happened to Roy Head. The phone at the Head house has hardly stopped ringing since Jan. 23, when Jason "Sundance" Head blew the judges away with "Stormy Monday" during his audition. And Roy, a singer best known for the 1965 pop/R&B crossover hit "Treat Her Right," has done more interviews in the past month than he has in years.
During its introductory segment on Sundance, Idol introduced a new generation to Roy's joint-defying splits and dance steps with a clip from his performance on the '60s music show Shindig. The full footage has become a popular YouTube clip, showing Roy doing moves learned from such R&B greats as Joe Tex and Jackie Wilson, footwork that once prompted James Brown to ask Roy to leave a tour.
"In a way, it was kind of a compliment, because I was burnin', " recalls Roy, now 66. "He had always been my idol, and I was awed just being on three shows with him."
"Treat Her Right," one of Roy's three top 40 hits in 1965, spent two weeks at No. 2 on the Billboard pop chart behind The Beatles' "Yesterday." From 1974 to 1985, he put 24 singles on the country chart.
Roy originally wrote the song about milking a cow.
"We made a mistake one time doing (Nat Kendrick and the Swans') Mashed Potato," he recalls. "Our guitar player played the wrong lick, so I just made up a song called Talkin' About a Cow. Later, my bass player, Gene Kurtz, said, 'Roy, why don't we make that about a woman? Instead of talking about a cow, we might do some good.' "
Later, Barbara Mandrell made the song a country hit. Otis Redding, Jerry Lee Lewis and George Thorogood also covered it.
Roy has been calling his son Sundance since birth. It was a childhood nickname of his own.
Sundance didn't inherit his dad's "dancing gene," Roy says, but he started performing young.
"He loves the blues, because that's all he's ever been around with me, that and country. He's said, 'If I could phrase like anybody, it would be George Jones. George Jones can take the word "if" and make it a whole song.' "
Though Sundance made a strong impression at his Memphis audition, he struggled during Hollywood week but was the last of 24 semifinalists chosen.
Says Roy: "I've told him, 'Man, you'd better focus on what you're doing, lock yourself in your room and learn your lyrics. Because they will unseat you if you get up there and flub your lyrics.' "
Roy and his wife, Carolyn, live just north of Houston. A few weeks ago, he was inducted into the Gulf Coast Music Hall of Fame, and he recently began work on his first recordings in 20 years.
He says he still performs 30 to 40 dates a year, often as part of such oldies packages as the upcoming New Orleans' Ponderosa Stomp and Green Bay's Rockin' 50s Fest III.
"I'm still out here scratching, still doing flips and splits and all that stuff — but it's tough when you're double sixes."
SOURCE: USA Today
Matt Richenthal is the Editor in Chief of TV Fanatic. Follow him on Twitter and on Google+.