Last week, we posted the first Bucky Covington message to his fans. Here's the latest installment:
It was very exciting to see everybody's response to my first blog entry. I hope you guys realize how much help it is and how great it looks when you go to these websites or listen to my radio interviews on the Internet. I couldn't do all this without you, so thanks for your help.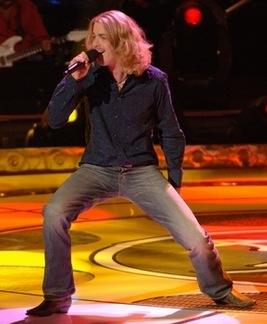 I just had dinner with a very big guy in radio, Coyote Calhoun, the program director at WAMZ in Louisville. When we went out to dinner, he said that after my on-air interview that afternoon he had more e-mail comments about me than he had ever seen before. I can't tell you how much that means to me. It's priceless.
We're still out doing a lot of radio interviews, getting ready for my album to come out on April 17. We've been hitting the Midwest and North regions recently, going everywhere from Wisconsin to Kentucky.
Sometimes, we'll do these American Idol viewing parties. I'll go up and play for 30 minutes or so, then I'll sign autographs and take pictures. It's neat, because everybody will watch the show and every time it goes to commercials, they've all got questions like "What it's like backstage?" It's neat being able to tell people how it goes.
Of course, I always get asked, "Who's your favorite judge?" It's just my personal opinion, but I listened to Randy Jackson the most, because he's been there and worked with all styles of music — country, pop, rock, whatever. He's produced, played bass. He's done it all.
Paula's a complete sweetheart — I love her to death. And Simon is an excellent TV personality. Sometimes he can give you constructive criticism, but sometimes he says things just to get the viewers. And thank God he does. A lot of people tuned it to see [Simon Cowell] and, because they did, they saw us.
Matt Richenthal is the Editor in Chief of TV Fanatic. Follow him on Twitter and on Google+.