The following is a review of Taylor Hicks and a recent Texas concert by Jessica Belasco of The San Antonio Express News ...
Even curmudgeonly American Idol judge Simon Cowell would have been tapping his foot Saturday night at the Majestic Theatre when Taylor Hicks took the stage, charming the audience with a voice as smoky as his hair and an obvious passion for blue-eyed soul.
The winner of the fifth season of American Idol stopped in San Antonio on St. Patrick's Day on his first national headlining tour in support of his self-titled major-label debut album.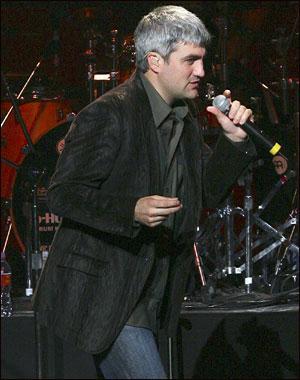 Although the show was little more than half full (the Majestic had sold only about 1,200 tickets three hours before the show), the rabid Soul Patrol, as Hicks' fans call themselves, more than made up for the disappointing attendance with screams and much snapping of camera phones.
The audience was predominantly female, and some of Hicks' most vocal fans were old enough to be his mother.
Dressed in jeans, a button-down shirt, a dark, textured sports jacket and black New Balance sneakers, Hicks, 30, started off his 70-minute set with an energetic romp through the Doobie Brothers' "Takin' It to the Streets."
He moved easily from his original tune "Soul Thing" to Marvin Gay's "Wherever I Lay My Hat" to Gene McDaniels' "Compared to What," which was one of the highlights of the show. He also rocked Supertramp's "Take the Long Way Home" and part of Van Morrison's "Saint Dominic's Preview."
The set list nicely balanced songs from Hicks' latest album, including "The Runaround," "Dream Myself Awake" and the single "Just to Feel That Way," with original tunes from "Under the Radar," one of his two independent albums he released before hitting it big on "American Idol."
He strapped on his guitar for "Heart and Soul" and "Hold on to Your Love," among others.
His only reference to American Idol was a polite "Thank you for voting for me" before launching into "The Deal," another original tune.
The seven-piece band was excellent, especially guitarist Josh Smith, but it would have been nice to have an expanded horn section, which was one of the strong points of Hicks' most recent album.
Hicks ended the show by donning a bright green sombrero a fan had placed on the stage and bowing deeply to the crowd.
The opening band, Greyhounds, an Austin funk and soul trio, were an unexpected treat. The band is definitely worth checking out when it returns to San Antonio for a show at Luna on April 13.
Matt Richenthal is the Editor in Chief of TV Fanatic. Follow him on Twitter and on Google+.