It's British invasion night, fans. No, that doesn't mean Simon Cowell will be taking over any more than usual ...
- Haley Scarnato picks "Tell Him," actually an American song covered by Billie Davis in the UK, but never released here. She shows more leg than usual, seems to know how she can remain at least one week longer. Enjoyable enough, though. Judges are positive.
- Just one guitar and some strings accompany Chris Richardson during his audition of "Don't Let the Sun Catch You Crying." Randy is crazy about it, so Paula is, too, of course. Even Simon gushes.
- It's time for Stephanie Edwards to shine. Or is it? The R&B specialist doesn't really standout with this song choice. Simon says she's "losing her soul." That can't bode well.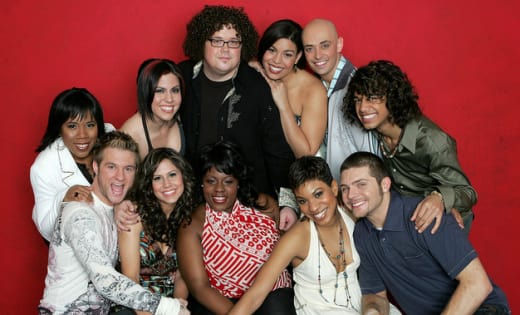 - But it does look good for Blake Lewis, who dusts off "Time of the Season." It's one of his better performances and all three judges feel the same. Randy calls it "brilliant."
- LaKisha Jones takes on ditch Shirley Bassey's "Diamonds Are Forever" and we can't say we enjoy the song very much. Randy, at least, doesn't love this version of it and Simon refers to it as old.
- As much as we give Sanjaya flak, at least can understand why people find him cute. But Phil Stacey? His appeal has been lost to us - and this rendition of "Tobacco Road" doesn't help. We're afraid Simon is overly harsh, though. Get out your sympathy votes, America.
- Not that Jordin Sparks will need them. While not as powerful a singer as Jones or Doolittle, this youngster has range and personality that all the judges appreciate.
- We're just not gonna talk about Sanjaya Malakar. The show is trying to keep him around, fans that care about cuteness over vocal talents will keep him around. Maybe forever.
- Gina Glocksen goes with "Paint It Black." These British songs are too obscure, in our view. But neither Randy, Paula or Simon can think of anything encouraging to say.
- Perhaps no contestant had to redeem himself more after last week than Chris Sligh - and we say he succeeded with this version of "She's Not There. Probably second to Blake for the night. Go guys ... for once!
- And to close the show, the hands-down favorite. Melinda Doolittle only lets us down this time due to the boring song choice. But we'll blame that on those darn Brits instead. Still the leaders, by far.
Matt Richenthal is the Editor in Chief of TV Fanatic. Follow him on Twitter and on Google+.