A bold stance, indeed. But this is how Edna Gundersen of USA Today sees it ...
The question tantalizes and terrorizes American Idol viewers: What if Sanjaya Malakar wins?
The toothy teen with the big hair — crafted into a fauxhawk Tuesday night — and minimal voice sailed into the top 10 last week, ensuring a spot on this summer's Idol tour. If he skates through tonight's elimination round (Fox, 9 ET/PT), the fuss over his confounding staying power is bound to intensify.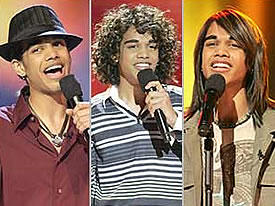 In the short run, his presence makes for spirited debate, but if Sanjaya is standing in the winner's circle, "it would destroy credibility the show's built up in the past five seasons," music consultant Tom Vickers says. "Instead of 30 million viewers a week, it might draw 20 million."
A Sanjaya victory "will ruin the show," says fan Catherine Schloss of Folsom, Calif. "If he wins, I really don't think American Idol will be back."
Says Bryce Smart of Seattle, "The franchise would be cheapened greatly, perhaps beyond repair." He says Idol's integrity would be shattered if Sanjaya wins or even outlasts a superior talent such as LaKisha Jones.
Radio host Howard Stern and votefortheworst.com have rallied Sanjaya support, but they "have very little influence when you're talking about 30 million votes," says Idol executive producer Nigel Lythgoe. "People with talent have always won it. We've lost really good people a little too early, and sometimes the Sanjayas, Chicken Littles and John Stevens have lasted a little longer perhaps."
An upset isn't unprecedented. The Eurovision song contest that launched ABBA globally in 1974 shocked many when voters gave the 2006 prize to Finnish horror metal group Lordi.
So, could Malakar record a marketable album? Possibly, says USA TODAY's Idol coach Don Waller, suggesting the enlistment of Swedish pop maestro Max Martin, who propelled 'N Sync and Britney Spears.
"I see Sanjaya as a Leif Garrett or Shaun Cassidy. He can talk-sing light ballads and uptempo kid-friendly pop. Since looks are a big part of the sales job, they've got to take pages out of bubblegum. He has to do wistful puppy love stuff, no double entendres. Crotch-grabbing is a disconnect.
"I'm sure (BMG chief) Clive Davis can throw an army of producers at the kid. The guy can't sing? What's new? This archetype keeps coming back."
Matt Richenthal is the Editor in Chief of TV Fanatic. Follow him on Twitter and on Google+.