Ashley Ferl, the American Idol uberfan, doesn't use many words, but she doesn't need to.
Whe talking about Sanjaya Malakar, little Ashley's tears speak for themselves.
"I just think he's so phenomenal," the 13-year old told Meredith Vieira on TODAY. "I just can't believe I saw him live. It was like a dream come true."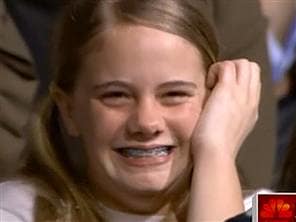 Vieira let Ashley know that the
TODAY
host knows what it's like. When she was a girl, she confessed, she cried while watching the Beatles — especially Paul McCartney.
Dressed in an American Idol t-shirt and well-stressed jeans splitting at the knees, Ashley clasped her hands tightly against her knees as she talked about her passion for the popular FOX show and her transcendent joy at being able to attend Tuesday night's show.
She had gotten tickets after attending a dress rehearsal and being moved to tears at meeting her favorite performer, Malakar, who has been critically abused, but has survived on youthful good looks and androgynous charisma.
Asked whether she felt her tears had helped Sanjaya survive, she replied, "I have no idea."
Her mom, Stacy, had no fewer reservations, saying, "I think it may have had something to do with it."
Winning the hearts — and votes — of little girls
Stacy Ferl says her daughter is a typical American girl, and it is true that the core audience for Idol is kids at the cusp of pubescence. "I would say her room is half 'SpongeBob' and half American Idol, " Stacy said.
Ashley votes often for her favorite Idol, but she said she also votes for "Melinda Doolittle, Gina Glocksen and Jordin Sparks."
Though she would love to be on the show herself some day, her mother says Ashley isn't a singer, and, the girl admitted, "I probably wouldn't make it far."
Matt Richenthal is the Editor in Chief of TV Fanatic. Follow him on Twitter and on Google+.