People magazine recently caught up with the Bucky Covington about his life as a newly single man, his Jessica Simpson hair and his advice for Simon Cowell.
You announced your separation from your wife, Crystal, in February. How are you doing?
I'm doing well. For the past two years we saw it coming. We stopped getting along and then you find yourself working on your relationship more than enjoying it. It can be a lot for a woman to see her spouse gone all the time. We're still friends. We send each other text messages and jokes.
Are you dating again?
I'm just too busy. Right now, as much as I'm gone, it wouldn't be fair to anybody. I just came out of a long relationship so I'm good. I'm focusing on my album and career.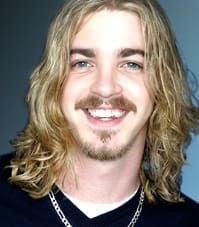 What can fans expect from the album?
A good mix of country ballads, straight country and turn-it-up rock-country. One of my songs, "I'll Walk," brings the tears out of me. It's about a girl who gets hit by a car, ends up in a wheelchair and when she's about to get married she looks up at her father and says, "I'll walk" down the aisle. There's another song, "Back When We Were Gods," about when you're young and living in the moment.
What was recording the album like?
Everybody had a great sense of humor in the studio. It was just non-stop one-liners being tossed around. Even if you did a really great job, someone would tell you that you sounded like crap just to rag on you.
What do you remember most about your American Idol experience?
When I did "Superstition" by Stevie Wonder, and Simon Cowell told me he liked my performance but that I had Jessica Simpson hair. The hairdressers asked me what I wanted. I just grown my hair, so I told them to knock it out. And they did – my hair was huge! So I'm walking around and asking the contestants, "Does this look a little much?" And they're all like, "No, it's looks good." But they're contestants, so that's what they're going to say!
What was Idol like for you?
It was amazing and a lot of fun. But it was stressful. The stress came from thinking about what's next. Is this going to be a shot at a career or is it back to the body shop I used to work at? Also, being on a show like that, you're judged by all kinds of critics. Pop critics may not dig what I do. Coming into the show I thought I was going to make the whole world love me. Then I got up there and realized how wrong I was!
Are you in touch with any of the other Idols?
I'm friends with Kellie Pickler and Chris Daughtry. I talk to Kellie the most. They've got the greatest sense of humor. Since the show we just hit it off. In my thank yous on my album I thank them individually.
What's your fondest memory of Simon?
I walked outside one time and saw Simon get into this beautiful black Ferrari – we all know Simon is loaded. He gets into his car and you hear "Vrooooom." He burnt the clutch out of it. He cannot drive a five speed worth a flip! I, personally, am a fan of Simon, but with all that money get an automatic!
Matt Richenthal is the Editor in Chief of TV Fanatic. Follow him on Twitter and on Google+.