We don't mean to pick on past American Idol finalists who perform on this season's results show. But it's hard not to see some differences in these singers.
Last week, for example, we mentioned a certain enhancement in the chest region of Kellie Pickler. So did Ryan Seacrest. It was difficult to miss.
Now - we hope we're mistaken - but compare the following Carrie Underwood photos. She's lost a lot of weight, hasn't she?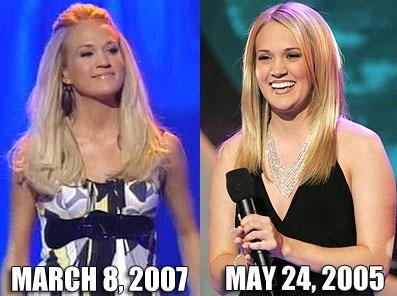 You're beautiful just the way you are, Carrie. Now go back for seconds at that breakfast buffet please!
Matt Richenthal is the Editor in Chief of TV Fanatic. Follow him on Twitter and on Google+.