A state representative is working to plan a celebration for LaKisha Jones, the Flint native who has been impressing viewers and judges of Fox television's American Idol.
No date or other details have been decided, but state Rep. Brenda Clack, D-Flint, hopes to hold the event at Perani Arena or The Whiting sometime in June, after the show's final episode of the season.
"LaKisha is the perfect example of what you can do when you follow the right path and follow your dreams," Clack said.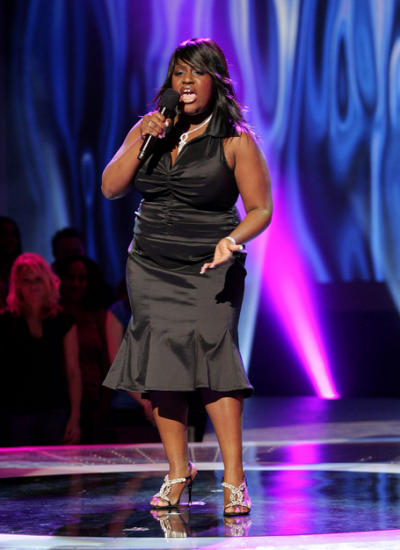 The party is being planned no matter how Jones finishes,
The Flint Journal
reported. Jones, 27-year-old single mother and bank employee, was told Thursday that she made it to the next stage of the show
Clack said she discussed the idea of a celebration recently with Gov. Jennifer Granholm, who also is a fan of Jones.
"We look forward to celebrating her success," Granholm spokeswoman Liz Boyd. "We want to be there."
Boyd said Granholm had a brief telephone conversation with Jones' mother, Beverly Jefferson of Flint, on Wednesday afternoon. Jefferson took Granholm's call in California, where family members including Jones' 4-year-old daughter, Brionne, had traveled to watch Wednesday night's show in person.
On Wednesday's show, Jones sang "I Have Nothing," written by Whitney Houston and released on her 1992 soundtrack album for the movie "The Bodyguard." The 12 remaining contestants next compete Tuesday.
"The governor and all of us are pulling for LaKisha and hope she ultimately will be the next American Idol," Boyd said.
SOURCE: The Flint Journal
Matt Richenthal is the Editor in Chief of TV Fanatic. Follow him on Twitter and on Google+.