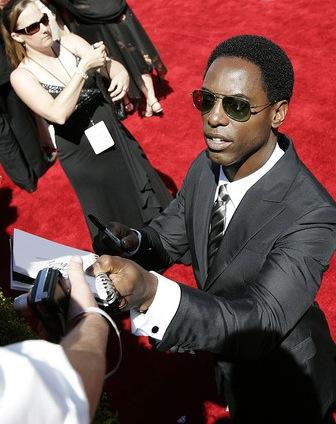 At long last, some good news for
Isaiah Washington
.
Seven weeks after he stepped on a land mine at the Golden Globes by using the anti-gay slur he'd been accused of using on the set of Grey's Anatomy last fall, the beleaguered star received an NAACP Image Award on March 2 for Best Actor in a Drama Series.
"The first time I was up here I felt deserving of something," a humble Washington said after receiving a standing ovation from the audience at L.A.'s Shrine Auditorium. "This time, I feel privileged."
If only he were informed, too.
When Entertainment Weekly tracked him down after the ceremony to ask if he'll be back at Seattle Grace next season, Washington was cryptic:
"I don't know the facts of what's going on," he said.
When it comes to Grey's Anatomy these days, few do.
Washington's future employment â€" which has been endlessly debated since the f-word incident â€" is just one of the many mysteries and issues swirling around ABC's hit medical drama.
The first involves a war of words over money between co-star Katherine Heigl and ABC Television Studio, which quietly offered salary increases to the cast earlier this season. One insider familiar with the negotiations says the studio first considered rewarding stars Patrick Dempsey, Ellen Pompeo, Sandra Oh, and Washington with bigger raises than other cast members.
That likely prompted Heigl to break off negotiations February 27 because she felt she wasn't being treated equally, according to a People source.
ABC fired back a day later, arguing it had approached Heigl with an offer to raise her salary significantly above her current contract and was "surprised to see this gesture reported negatively in the press."
Not to be outmaneuvered, Heigl countered a day later, saying she was embarrassed this has become a public matter. Heigl â€" like her costars â€" is under a traditional, multi-year deal and is not guaranteed a raise at all, but when a show is successful, studios often reward their talent.
Most of the Grey's Anatomy stars are expected to sign new deals by month's end: Patrick Dempsey is poised to make around $200,000 an episode, while Sandra Oh should earn more than $100,000 per week. Even after this display of discontent, it seems highly unlikely Heigl would walk away from one of TV's top series.
One person who might be bolting, however, is Kate Walsh.
The actress has been tapped to headline a potential Grey's Anatomy spin-off featuring Taye Diggs. According to one report, her fellow actors were angry after being caught off-guard by the news of the project on February 21, but insiders dispute that notion:
"They were told," insists one person close to the show.
Creator Shonda Rhimes has submitted the two-hour script, while The Nine's Tim Daly and Prison Break's Paul Adelstein â€" who, ironically, was cast as the original Dr. Burke on Grey's Anatomy â€" have also signed on. Filming is set to begin in the next few weeks.
As for Washington's future, his comment to Entertainment Weekly seems to cast at least some doubt on whether he'll return after Season 3, but the studio (along with Washington's new publicist, noted crisis manager Howard Bragman) says he's not going anywhere.
Still, it's telling that his name has reportedly been absent during the recent salary negotiations. Bragman says that "we are going to do our business in private, not in the press."
"I'm looking at the bigger picture. I will not let [the f-word incident] define him. He will not let it define him," Bragman said.
We'll see whether he gets his wish in the coming weeks.
The show is set to film its season finale in late April, and ABC will announce its fall schedule on May 15. In the meantime, the notoriously tight-lipped Shonda Rhimes is keeping viewers, the press, and apparently her cast in the dark about any future plans for the medical drama.
When asked about the spin-off at the Image Awards, Washington demurred: "I don't know when it came about â€" or why. They don't tell me anything!"
Steve Marsi is the Managing Editor of TV Fanatic. Follow him on Google+ or email him here.