Paula Abdul says she and Simon Cowell, who torments her on the set of American Idol, are chummy in real life.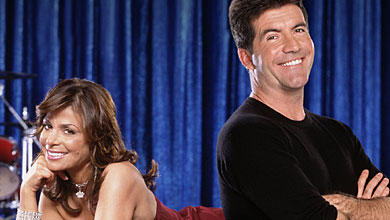 "Simon and I actually get along great," the 44-year-old judge says in an interview in
TV Guide
magazine's March 19 issue. "We have cultivated a fun relationship. ... He's actually become a really good friend."
Were they at first attracted to one another, as Cowell has suggested?
"Oh, puh-leez! He makes this stuff up," Abdul says. "He said, 'Paula, people want us to hook up so bad.' I said, 'That's disgusting.' He goes, 'Paula, I know you want me,' and I go, 'Like a cold sore.' We have fun playing up the chemistry, but there's also times when I would cross the other side of the street so I wouldn't have to look at him."
In her five years on American Idol, Abdul has become a pop-culture punch line for her sometimes odd behavior, which has included slurred speech. Cowell, ever the troublemaker, is to blame, she says.
"He's caused me a lot of problems. ... In the middle of me trying to figure out how I'm going to say something that gives someone dignity walking off that stage, I've got the antagonistic brother goofing on me, trying to throw me off.
"Simon will do things that people have no idea about. ... When the camera isn't on me, (he) isn't watching the performance, he's poking and prodding me."
Sounds like a possible love connection to us. Someone better warn Terri Seymour!
Matt Richenthal is the Editor in Chief of TV Fanatic. Follow him on Twitter and on Google+.