Simon Cowell has a gentle side ... it just doesn't come out when judging poor American Idol auditions.
The supposedly mean one has signed with PETA to form a new public service announcement to make the viewers aware of the dangers of leaving dogs in hot vehicles.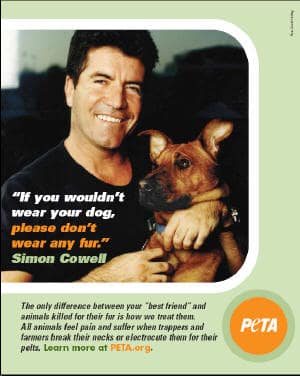 "Maybe some people are surprised that
I like animals
, but there's quite a difference between telling someone who's a useless singer, 'You're a useless singer' and drowning a puppy," said Cowell. "I once had an incident with a guy who auditioned [for
American Idol
] who actually admitted that he likes killing animals... he didn't go through."
PETA promotes and upholds animal welfare and protection issues, actively opposing animal testing, hunting and other forms of maltreatment.
Cowell's endorsement of animal welfare comes with his own observation of the lack of knowledge of people when it comes to the safety of their pets. In an interview with PETA he said:
"I actually have witnessed a dog in a car on a hot day, and luckily I found its owner… She was in a shop, and I dragged her out the shop and said, 'Your dog is going to die in a second.' And she wasn't aware of it. People just aren't aware of it."
Along with his part in Idol Gives Back, is it possible Simon is actually ... nice?
Matt Richenthal is the Editor in Chief of TV Fanatic. Follow him on Twitter and on Google+.