Ruben Studdard isn't the only American Idol champ to have undergone a healthy bit of weight loss.
Taylor Hicks is feeling lighter on his feet for good reason, People magazine reveals in its new issue.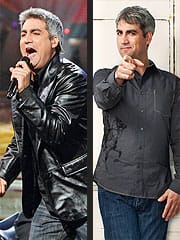 The 6'1" Soul Patrol singer has shed nearly 22 lbs., going from 215 to 193, since his
American Ido
l win last May. How'd he do it?
By ditching fast food and such southern comforts as fried chicken. In their place: Salads, brown rice, fish and chicken noodle soup. "It's good for your throat," he says. "It's also comforting, but it's light."
Not that the 30-year-old Alabaman – who's currently on a 53-city tour to promote his self-titled album – is completely denying himself. He calls his day off from the tour "kind of like my one sin day. I look for chocolate cake. If you're gonna do it, you might as well do it that way!"
Now the same weight as when he played high-school basketball, Hicks follows a serious exercise regimen, running for 45 minutes every other day, no matter where he is.
"I just take off running, with a hat on," he says. And when covering up his distinctive gray mop, "I've walked through a thousand fans and nobody notices."
Aside from the running, "I use a lot of the stage as exercise," says the singer, who calls his dance style "signature me ... it's original and it's authentic." Plus, it's more cardio: "I wear jackets, and with those lights, I'm sweating off, like, two lbs. a night!"
In a bit more disturbing weight news, some are concerned about Carrie Underwood, yet another American Idol winner.
Matt Richenthal is the Editor in Chief of TV Fanatic. Follow him on Twitter and on Google+.