Let's hear, once again, from Bucky Covington. Here's his latest message to fans:
Last week, we were in New York and Florida - it was a very busy little week. Of course, my managers, Ron and Don, would disagree. Like Rocky and me, they're identical twins – but they get to switch turns going out with me on the road. But of course I'm not allowed to switch with my brother.
In New York, we did Live with Regis and Kelly – or Kelly and Howie. Howie Mandel was sitting in for Regis Philbin after he had heart surgery, and he is a trip. We laughed our tails off in the green room. I had a great time. We did the single, A Different World, on the show, then we went off doing another song from the album, called I'm Good.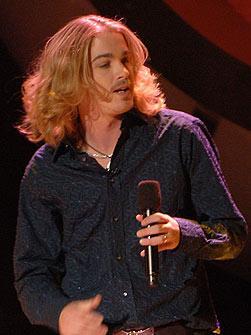 I was walking through New York with Shayne Hill and Hobie Hubbard from Sawyer Brown. We were talking about how we can't stand the horn blowing in New York. The horn blowing never changes the situation, it just makes people ill. So we're walking across the street and Shayne's on his cell phone, when a cab pulls up to, like, his knees and just nails the horn. Shayne turns around and just screams at him. Doesn't say anything else, just screams. Then we started laughing and just kept walking.
Elliot Yamin was in New York at the same time I was. He was doing a signing at Virgin Records, because his album came out Tuesday. So I went into the store, and there was a whole line of people getting their albums signed. I took my album and put it on the desk for him. We did our hellos and all that, and he went to sign my CD. I said, "No, actually, I just want my money back."
Thank goodness he's got a good sense of humor. I had him sign an album for Hobie, too. He wrote, "Hobie – good luck with your little band."
In Florida, we went down to WQYK in Tampa. (Country comic) Cledus T. Judd is a radio DJ down there in the morning, but if he hadn't opened his mouth, I wouldn't have even recognized him. He has lost, I think he said, 110 pounds. It was amazing. He's almost my size.
I also did Jeff Foxworthy's radio show on Friday. He actually said he was a fan of mine, which is good, because I'm a huge fan of his. I told a joke and got to make him laugh. Here's the joke:
There's a chicken and an egg, lying in bed. The chicken is leaning against the headboard, smoking a cigarette with a satisfied smile. The egg grabs the sheet, rolls over and says, "I guess we finally answered that question."
Now that we've got the band put together, we've been having rehearsals, just to make sure everybody knows all their parts.
Tonight, we're off for Ohio and Kansas City. I just got Mark Miller's old bus, so we get to leave the plane for a little while and take our first tour out on the bus. I've always wanted to have my own bus, so this is going to be great. So if I don't see you out on the road, I'll see you here next week!
Matt Richenthal is the Editor in Chief of TV Fanatic. Follow him on Twitter and on Google+.