Fantastic news: We won't have to wait until March 29 to see how the whole George-Izzie hook-up debacle and everything else from "Scars and Souvenirs" plays out.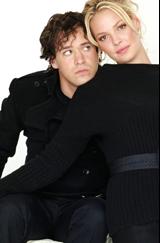 Grey's Anatomy
returns with a new episode this Thursday, "My Favorite Mistake," instead of the originally-scheduled repeat.
Why the change? Apparently, ABC was encouraged by the opening-week numbers of October Road following Grey's Anatomy last Thursday, and didn't want to lose any of that momentum going into its second episode.
With the possible exception of American Idol, there's certainly no greater momentum source on TV right now than an original episode of Grey's Anatomy.
Whether one can actually stomach October Road is another story.
But hey, if it means an all-new Grey's Anatomy instead of a rerun, we're all for it, right? Sure. Just go with it.
In "My Favorite Mistake," Callie's father (Hector Elizondo) visits Seattle Grace and meets George, who's in no shape for an introduction. Meanwhile, the candidates for the Chief's position are interviewed, including Colin Marlow (Roger Rees). Alex continues to help Jane Doe (Elizabeth Reaser) find her place in the world, and George and Izzie... well...
Check out this brief preview:
[youtube]http://www.youtube.com/watch?v=vLHv03sKUIc[/youtube]
As usual, we'll have our episode recap, music guide, list of quotes and image gallery from Thursday night up after the show. Can't wait!
Thanks to the diligent fans who already started the "My Favorite Mistake" forum thread. Follow the link to join and share your thoughts!
Steve Marsi is the Managing Editor of TV Fanatic. Follow him on Google+ or email him here.