Once again, Kimberly Caldwell and Rosanna Tavarez are here to talk about American Idol. What are their thoughts on last week's auditions and cuts? Let's find out ...
TVGuide.com: From where you sit, what was the big story coming out of last week's competition?
Rosanna Tavarez: Antonella Barba, maybe?
Kimberly Caldwell: I'm sure everybody thought Antonella was going to be booted off, but instead everybody decided to support her. I'm not sure how it happened, but it's kind of the "Paris Hilton effect." Then there's Sanjaya Malakar, the poor boy. He's probably not even in the bottom two, but they're just putting him up there because they know that he's the one who should probably be going at this point, talent-wise.
TVGuide.com: Here's a conspiracy theory that I don't necessarily buy into, but let's put it out there for scrutiny: Could Antonella possibly be behind the leaked photos? Could she be secretly endorsing them, to get herself some "buzz" as she enters these later rounds?
Kimberly: Could be, though I have no idea who would endorse themselves looking the way that she looked in a few of the pictures that I saw. [Laughs] Listen, we all do crazy stuff, so I can't really judge anybody.
Rosanna: Could she be behind this...? [Pondering] That would be kind of Lady Macbeth of her, but I don't think she's that savvy. It's one of those things where it's an interesting theory for a movie, but I think it's too much of a crapshoot. It could work for you, or it could work against you.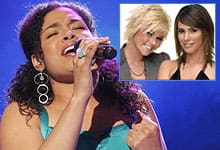 TVGuide.com
: Out of Nick Pedro,
A.J. Tabaldo
, Alaina Alexander and Leslie Hunt, which do you feel was the greatest loss? Who had the most unrealized or underappreciated potential?
Kimberly
: Oh, A.J. for sure. Alaina and Leslie and Nick all had good stories and they could have been a part of the top 12, but I think that A.J. should have been in the top 12. That was taken away from him way too soon. I think it was one of those things where people think, "He's good, he's talented, he's smart, and he has a great voice, so we don't even need to vote for him, because he's safe." It happens every year.
Rosanna
: I think A.J. shouldn't have left so early. I think he did really well, and in that second week he was one of the boys who was really trying harder. I could have watched him a few more weeks.
TVGuide.com: Is there anyone "under the radar" that you're starting to warm up to?
Kimberly: Sundance Head really blew me away on his first audition, and then the others after that I was kind of disappointed in, but I thought he really stepped up his game this week.
Rosanna: Sundance kind of redeemed himself — although that's been waiting to happen.
TVGuide.com: But how many songs like "Mustang Sally" can he sing going forward?
Rosanna: He's a blues guy, so, if he's smart enough, he's going to have to do what Chris Daughtry did. Whatever song Chris Daughtry got, he made it into a rock song.
TVGuide.com: Do you think last week's "dedication" theme handcuffed the singers?
Rosanna: It absolutely did. Case in point, Jordin Sparks [pictured]. Your heartstrings get tugged at and you feel so emotional, and then you have to sing a mammoth song. It's not easy. Sometimes [the producers'] expectations are really out there. It's hard to sing after you see pictures of yourself crying. It's not easy at all. It's the same as when they get booted off: "Can you sing that song again?" Uh, no, I can't!
Kimberly: Yeah, I felt bad for Jordin, because she was so taken over by it. Imagine, it's one of the most important weeks ever of your entire life, and you're 17 years old going through it. I'm sure you'd react the same way Jordin did. But at the same time it's like, "You're professional, you're a singer, pull it together."
TVGuide.com: So, what do you ladies think of the "new" Kellie Pickler?
Rosanna: Oh, goodness....
Kimberly: I... thought it was weird. I did. I don't even know what to say about it.
TVGuide.com: I appreciated Ryan's attempts at getting at the truth: "Have you bought yourself anything new?"
Rosanna: Yeah, I think the answer was a big, resounding "yes." She really didn't need it. She's got a booty!
Kimberly: Well, Ace Young [also from Idol's Season 5 is a good friend of mine, so I found out about the [enhanced] boobies. But yeah, I loved the old Kellie Pickler, so it was weird to see her as a "mom." It was weird to see her 30 years later. I was like, "What's going on here? I don't understand."
TVGuide.com: I know some, meaning Ryan, have mocked Simon for critiquing singers' wardrobe choices, but in the case of, say, Gina Glocksen, if you're going to sing rock, by all means dress like a rocker.
Kimberly: I actually thought Gina looked really good. I thought that she was rocker glam....
Rosanna: She was definitely like glammed-out rock. But I'm going to go against the grain here and say that his fashion comments, for the most part, have been right on. Case in point: Lakisha Jones with the miniskirt. Lakisha to me is a kind of Aretha Franklin, so I don't think the whole trendy "Forever 21" look was working for her. It was too generic, and she's not a generic talent.
Kimberly: I tell myself that I'm "country rock" or whatever, so I try to be appropriate whenever I perform. But at the same time I have so many different styles and I get bored, so I want to do really dressed-up-type stuff, and I want to do baggy stuff, too. I have no limits on myself, and I hope no one would put limits on his or herself just because of Simon.
Matt Richenthal is the Editor in Chief of TV Fanatic. Follow him on Twitter and on Google+.