It's Jenny from the Block night, fans. And Ryan Seacrest says Jennifer Lopez is an "unstoppable force." We guess you could call her that. Or maybe just "phony." Either works, really.
Anyway, on to the show ...
- Melinda Doolittle is sporting some sort of soccer mom style hair. And, maybe because we have nothing to compare her performance to yet, actually didn't blow us away this week. Wasn't anything that really Swayed us about it.
- Randy is all about Lakisha Jones tonight, but Paula actually doesn't agree for once. Way to stand up for yourself, Ms. Abdul! We thought it was solid enough, but were mostly entertained by J. Lo trying to give Lakisha singing advice.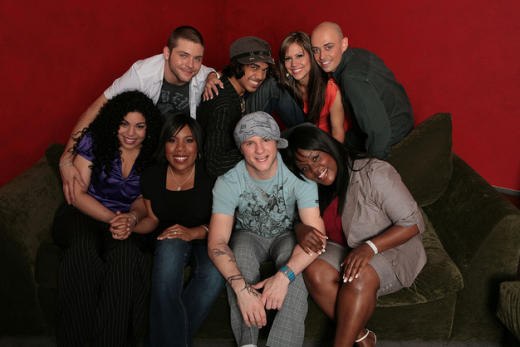 - Smooth is a Latin song, really? Rob Thomas sure had us fooled. The song seems too low for
Chris Richardson
, but the judges like it. Simon even calls it the best so far. We're not gonna argue with him ... but nothing about Richardson seems original to us (sorry,
Lauren Conrad
).
- Haley Scarnato certainly is original, though. Those were satin short shorts, right? Turn the Beat Around is a fun song and she has fun with it. Vocals weren't anything great, but it's not hard to see this singer selling a lot of records, is it?
- Now we come to Phil Stacey, who doesn't do anything more for us this week than he has in the past. The dude is just boring. This performance was okay enough, but he definitely lost it at the end. We hope he's the next to go.
- Okay, if Jordin Sparks is struggling, we blame the theme for these lackluster performances. Her Glorida Estefan rendition is decent, but nothing compared to her earlier weeks. Then again, has anyone's been so far?
- Look at the cajones on Blake Lewis! The guy covers a song by J. Lo's husband .... and does it very well. It's hard for this creative singer to ever really have a bad performance.
- Gee, we wonder if FOX is saving Sanjaya Malakar for last just to build rating. The network would never do that, would it? If Simon says it's "not horrible," though, we're pretty sure this dude will last at least another week.
Matt Richenthal is the Editor in Chief of TV Fanatic. Follow him on Twitter and on Google+.