Martina McBride is in the house tonight. Let's see what else American Idol country music night can deliver ...
- The difficult task of going first falls to Phil Stacey. McBride calls the initial part of the practice session "stiff." Hey, she's a great judge already! We have to say, though, this genre does sort of fit Phil. He sounded really good and almost entertained us even.
- That's almost a tough act for Jordin Sparks to follow. But, wow, she certainly does the job. We can't say it any better than Simon just did: Of course she can win this thing.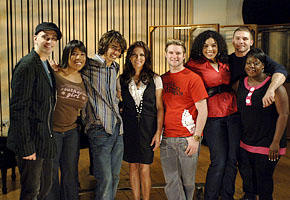 -
Sanjaya Malakar
is singing "Something to Talk About." Which might as well be his hair and presence on this show, as opposed to whatever Bonnie Raitt intended it to mean (love or something). Simon tells it like it is ("utterly horrendous") and Ryan yells at him for some reason. What else can a judge say about that performance?
- Lakisha Jones is up next. She wants Jesus to take the wheel. And probably wants the judges to stop talking about they all criticize this rendition. Might she be in trouble tomorrow night?
- We don't have time to ponder that because Chris Richardson is on stage. The judges all agree that there was no emotion in the song - and we agree. It's like C-Rich just wanted to get off the stage. Maybe he had a date with Lauren Conrad.
- Melinda Doolittle plays up the humble card in the pre-performance interview. She may need to ditch that after she keeps impressing the judges and viewers like this, though.
- And Blake Lewis closes the show with a decent enough rendition of a Tim McGraw song. Nothing too fantastic, but he's certainly not going anywhere.
Matt Richenthal is the Editor in Chief of TV Fanatic. Follow him on Twitter and on Google+.