When writer/director Richard Curtis (Love Actually) puts on a TV fundraiser for relief programs in England, he wonders whether the audience will show up. That's not an issue with Idol Gives Back, Wednesday night's two-hour charity special wrapped into American Idol's weekly elimination
"We haven't thought about the audience once here. I've got a feeling about 28 million people will definitely watch," says Curtis, an executive producer of Idol Gives Back.
He expects the English special on which IGB is based, Red Nose Day, will have raised 60 million pounds (about $120 million) from its March broadcast when all contributions are counted.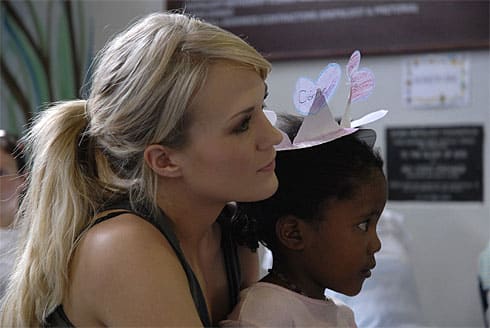 Money raised on Idol will go to Charity Projects Entertainment Fund (CPEF) and other groups such as Save the Children and America's Second Harvest, with relief programs in Africa and the USA.
IGB, like the English version, will feature singers, actors and comedians. Live and taped performances include Kelly Clarkson, Celine Dion, Gwen Stefani, Pink, Josh Groban, Il Divo, Rascal Flatts and Earth, Wind & Fire. Ellen DeGeneres will host.
Bono will appear, talking to the six remaining American Idol singers about ONE: The Campaign to Make Poverty History. The finalists will sing American Prayer, a song written by Bono and Dave Stewart about Africa's AIDS crisis.
IGB also will feature films showing the people and areas that will be helped with contributions. In one, Idol judge Simon Cowell and host Ryan Seacrest visit Africa. New Orleans, ravaged by Hurricane Katrina, also will be featured.
Curtis, who wrote Notting Hill, worked on 1985's Live Aid, the celebrated international concert that raised money for African famine relief. He started what has become Red Nose Day, named for the clown-like noses sold to gain attention for the event, in 1988.
"These big events, which make the public aware of issues, really are helpful to the cause," he says.
IGB viewers can donate via phone or the Net. News Corp., Fox's owner, has pledged $5 million, and other corporations will make donations. Curtis says just 49 cents can buy a pack of pills to treat malaria.
"The general message is an empowering one, that if people give money or ring in tonight, then person-to-person they can affect the life of one individual somewhere else," Curtis says. "It's the same theory as when you ring in and you vote for your Idols."
Matt Richenthal is the Editor in Chief of TV Fanatic. Follow him on Twitter and on Google+.