Ever wanna be a contestant on American Idol?
Just be warned: it's not all standing ovations and exciting meetings with celebrities such as Jennifer Lopez. TMZ.com has obtained the following schedule that finalists such as Jordin Sparks has to follow ...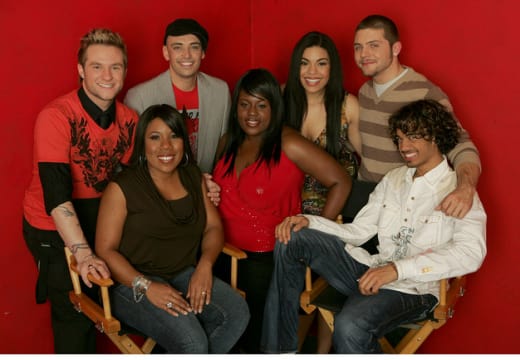 A new
Idol
week starts after the departure of Wednesday night's eliminated contestant.
On Thursday, contestants mull over song choices and begin to work out their particular look for their next performance. This is where Sanjaya's hair-tastrophes are born! On Fridays, after song choices are nailed down, contestants hit the town to purchase any last-minute wardrobe.
On Saturdays, the wannabes meet with that week's celebrity mentor to pick up tips on their renditions and to make any needed tweaks to their song's arrangement. The meetings are filmed rehearsals, with J.Lo, Gwen Stefani, or, as was the case this weekend, Martina McBride.
Sunday is a busy production day, as the kids tape those goofy Ford-sponsored music videos. TMZ has learned that if production wraps early, they usually get some much-needed free time on Sunday nights. You hear that, Lauren Conrad? This is where you can hit on your possible new man, Chris Richardson.
Monday is all about rehearsals, rehearsals and more rehearsals. Yes, Sanjaya actually rehearses.
Tuesday is live performance night, which finds everyone (contestants and production staff alike) scrambling to iron out all last minute details. A dress rehearsal run-thru happens just prior to the live taping at 5 PM PT. Afterwards, we're told, many of the contestants gather at their Hollywood apartment complex to watch the show together.
Now that Wednesday's elimination show is one hour, the contestants may be required to perform (as they did last week with Enrique Iglesias' "Bailamos.") After running through their performance, the singers prepare for the possibility of being sent home.
After the eliminee is revealed, tears are shed and the entire group heads over to a local restaurant (usually Italian) for the weekly goodbye dinner. After their last supper, the Idols retire to their home and the entire process begins all over again.
Matt Richenthal is the Editor in Chief of TV Fanatic. Follow him on Twitter and on Google+.