You don't have to carry a tune to win the newest American Idol competition. You just have to compose one.
Idol is launching its first songwriting competition today. The winner's song will be performed by the two finalists and become the new Idol's first single.
"As American Idol does with amateur singers, opening the doors to a recording career, we're taking that idea and reinterpreting it to the songwriting world," says Iain Pirie, who heads the U.S. operation for 19 Entertainment.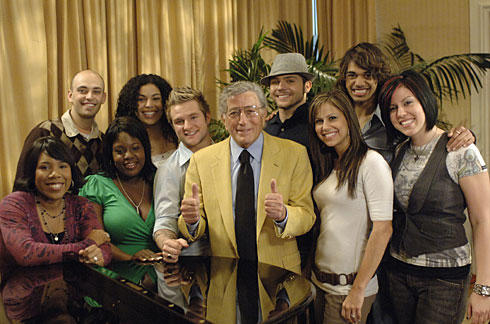 "It could be anyone. It could be someone sitting on their porch in Tennessee, or they could be playing in a bar band in Seattle," he says. "You can literally imagine a 50-year-old mom sitting in her living room with a portable keyboard, coming up with a great song."
During the previous five seasons of Idol, music professionals have written the winners' finale songs, which have topped the singles charts but often have received a thumbs down from music critics and even the Idol judges.
The contest works this way: Amateur hopefuls — 18 and up with no exclusive publishing deals — can write and record songs and upload them at songwriter.americanidol.com until April 17.
A team headed by Idol creator Simon Fuller will pick 20 songs from those submitted and let fans listen on the website. They will then have a week, starting May 2, to vote for their favorites, one online vote per fan, Pirie says.
Fans "will feel very engaged with the process in the same way that they are with the TV show," he says.
Once a winner is picked, a record producer will arrange and produce the song for the Idol finalists, possibly consulting with the songwriter, who will get a one-song, standard deal with 19, Pirie says.
He says it's 95% certain there won't be a Idol TV special, at least for this year, because effort is being concentrated on the charity special, Idol Gives Back.
The amateur songwriters — individuals, duos or groups — will be responsible for putting together the performance for the contest submission. Different levels of recording sophistication won't be a problem, Pirie says, because music professionals can judge the quality regardless of the arrangement.
"One overriding truth in all this," he says, "is that a great song is a great song."
SOURCE: USA Today
Matt Richenthal is the Editor in Chief of TV Fanatic. Follow him on Twitter and on Google+.