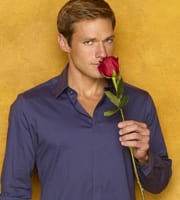 When the 10th season of ABC's hit reality TV series
The Bachelor
began last week, America met one of the hottest - and most well-rounded - contestants to date.
Both an officer and a gentleman, 30-year-old Andy Baldwin is a navy diver, a doctor, a tri-athlete, a philanthropist and a family man. Yes. A genuinely decent dude.
It's gross, but Us Weekly caught up with the newest reality TV star for an expanded interview, and you can read it below.
Us: How did you become the next bachelor?
Andy Baldwin: I didn't really try out - it sort of just came to me. One of my friends saw an ad and said I'd be great for the show. I was sitting in my office one day last fall and the phone rang. The producers called and said "We want you to be the next season of The Bachelor on ABC."
I was like "What?!?!" I was recently single and I didn't think it was going to be possible, given my military background. I was skeptical of the type of women they've had on in the past and the type of bachelors. After a bunch of emails and callbacks, I finally mustered up the courage to float the idea past my C.O. (Commanding Officer), who was totally supportive.
Us: What is it you have that perhaps the bachelors before you didn't?

Andy Baldwin: I'm not an Italian prince (like Lorenzo Borghese). I'm not an heir to a large tire company, I don't want to be an actor and I'm not a quarterback. I'm just a guy that grew up in a small town in Pennsylvania with a great family. I'm a Navy diver and doctor serving my country out in Pearl Harbor - a wonderful career I'm committed to. I just haven't met right woman yet.
Us
:
On the premiere episode, you celebrated your birthday. Some of the women baked you a cake but swapped out eggs for tequila. How exactly did that taste?

Andy Baldwin
: [laughs] It was delicious! When one of the women expressed she had the same birthday - what are the odds - I told her it was my birthday too. I had no idea the girls had baked a cake on the spot.
Us: Can you tell us about a particular date you enjoyed during your time on the show?
Andy Baldwin: The date I enjoyed tremendously was the charity date we did - helping a local elementary school redo their grounds. It involved interacting with the kids and helping out the community, something that's very important to me. To see the women in that environment was truly special.
Us: Do you plan to have children yourself one day?

Andy Baldwin: Definitely. I can't wait!
Us: Have your Naval buddies at the base been supportive?

Andy Baldwin: They're excited. They cannot wait to meet her and they're very happy for their doctor. A lot of these navy divers are still single and they said they'd be available for bereavement counseling for the women who didn't get votes.
Us: Lastly, while it will be a while until we learn which lady you've chosen. Are you finding it hard to keep your relationship a secret?
Andy Baldwin: So hard. We finished March 14 after 7 weeks. It was very intense emotionally but I'm in a happy place right now.
SCOOP NOTE: We can only imagine what kind of happy place American women will be in if Ian Ziering goes through with rumored plans to pose in Playgirl...
Matt Richenthal is the Editor in Chief of TV Fanatic. Follow him on Twitter and on Google+.