Thanks to People magazine for this report from last night's American Idol show ...
Lucky No. 7: After Melinda Doolittle's show opening performance of "Sway," the house settled down a bit. But it was Blake Lewis, the next-to-last contestant, who got the audience out of their seats with his performance of the Marc Anthony hit "I Need to Know." Decked out in a red tuxedo shirt, Blake created so much excitement that producers had to hush the rowdy crowd.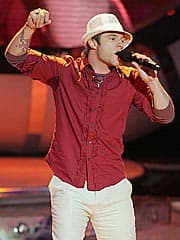 And as soon as the show went to commercial break, fans erupted into applause and squeals of "I love you, Blaaaaaaake!"
Gentlemen Prefer Blondes: Simon Cowell can sure pour on the charm – just ask the young, tanned fan who got up enough nerve to ask him what he finds sexiest in a woman. Without missing a beat, Simon said, "Someone with blonde hair and a brown top." Which, of course, got the fan with the blonde hair and brown shirt squealing with excitement before she sat back down next to her boyfriend.
Arm Candy: While Simon was busy paying compliments to other women, Idol executive producer Nigel Lythgoe took the opportunity to make his move on Simon's girlfriend, Extra correspondent Terri Seymour.
During Sanjaya Malakar's rendition of "Besame Mucho," Lythgoe grabbed Seymour's arm and began playfully planting kisses on it, starting from her wrist and working his way up to her elbow. Simon's reaction? He glanced over to see the shenanigans, and all three chuckled.
The Sanjaya Hair Band?: Sitting with Sanjaya's mom Jill and sister Shyamali (who auditioned this season with her brother but didn't make the Top 24) were two friends, one of whom sported, yes, a Sanjaya-like pony-hawk.
Call Him Jock Ryan: A fan named Bonnie from Pittsburgh sported a sign for host Ryan Seacrest that read "Pittsburgh Loves Ryan." Seacrest was alerted to the sign and he waved to Bonnie during a commercial break and said, "I love Pittsburgh." The dialogue continued with Bonnie assuring Seacrest, a former high school football player (who knew?), that "the Steelers love you, too."
Matt Richenthal is the Editor in Chief of TV Fanatic. Follow him on Twitter and on Google+.