Thanks to People magazine for this report on last night's show ...
Idol Sisterhood: They're competitors on the show, but Jordin Sparks couldn't hide her enthusiasm for Melinda Doolittle last night. When the show went to commercial after Doolittle's performance of "I Got Rhythm," Sparks rushed over to the center of the stage to offer her fellow contestant a hardy embrace and congratulations for a job well done.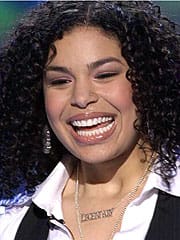 Rumor Has It?
: Before the show, Top 24 Idol
Alaina Alexander
set the record straight on the rumors that she's dating contestant
Chris Richardson
. "It's false – Chris and I are not dating," Alexander said. In fact, the 24-year-old West Hollywood resident says she's been seeing restaurateur Charlie Linder "for almost three years."
Alexander chalks up the rumors to the fact that she, Richardson and several others Idols went on a group outing to a Hollywood bowling alley recently. "[Chris and I] are friends," sayid Alexander. "We hang out together. Nice guy. Not together."
Big (Air) Band: It's rare to see Simon Cowell visibly react to any contestant's performance (other than grimace), but during Doolittle's vocal stylings of "I Got Rhythm" he and Idol executive producer Nigel Lythgoe smiled at each other and nodded with approval. When Doolittle belted out the song's final verses to the driving beat of the drums, Lythgoe even air drummed – beat for beat – in his seat.
A Tearjerker: While Gina Glocksen's mom, Nancy, was a no-show at last week show (she was on a cruise vacation – and was sporting a tan to prove it), she was back in the audience Tuesday night and tearing up during her daughter's rendition of "Smile" – a favorite of Glocksen's late grandfather.
Blame It On Dad: Paula Abdul may have a reputation for being the last judge to enter the soundstage, but last night she was also the last judge to leave after the show ended. That's because Abdul had to make her way over to hug and kiss a very special fan goodbye – her dad!
But in keeping with her nice judge rep, Paula apologized to the crowd for the hold up (the audience can't exit the soundstage until all of the contestants and judges are off the set). "Sorry everybody," she yelled, grinning from ear to ear. "This is my dad, Harry Abdul." Everyone applauded, and Daddy Abdul waved and smiled to the crowd.
Matt Richenthal is the Editor in Chief of TV Fanatic. Follow him on Twitter and on Google+.