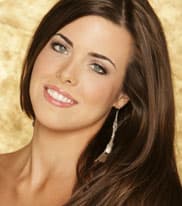 Andy Baldwin respects the strong moral values of Alexis Young.
But apparently not quite enough to keep her around for another rose ceremony.
The lovely Young was one of three girls eliminated on The Bachelor last week.
"I'm not sure if [my conservative values] did [play a role in my elimination]. If it did, I'm glad because my goal in going to this show was to let him know as soon as possible what I wanted in a guy, what kind of girl I was," said Alexis Young, a 26-year-old attorney from Southlake, Tex.
"There was a lot of time I was able to speak to [Andy Baldwin] that wasn't shown... I feel like I got to know him and he got to know me... the spark's not there, it's pretty simple."
Her moral values were on full display in the second episode of the 10th season of The Bachelor when Stephanie Tipper - a 27-year-old Folly Beach, S.C., organ donor coordinator who received Andy's "first impression rose" during the premiere - appeared to subtly taunt Alexis about Alexis' virginity.
"I had not told [Stephanie T.] that. She received that information from another source. I'm not exactly sure [how she knew that information]. I have my ideas but I'm really not sure," said Alexis Young.
"If the worst thing that they can do is show that I'm some moral, virtuous, religious girl then I'm fine with that. I feel like I escaped unscathed... there's worst reputations they could have assigned to me than that."
Alexis added the success rate of virgins versus non-virgins on previous seasons of The Bachelor "never even crossed [her] mind." She was aware that The Bachelor: Rome runner-up Sadie Murray, a publicist from Carlsbad, Calif., was a virgin.
"I don't think it's so strange that it should be a make or break kind of deal," Alexis said.
"Approaching the show, I was hoping Andy would hold the same moral values that I did. Of course it was a huge risk, and more likely than not we might not have been compatible. But I guess I was open-minded. When he was introduced, he said he was a big family man. And he seemed to come from a pretty conservative background. I went into it thinking, 'Hey, it could happen. But more than likely it might not.'"
Having watched previous editions of The Bachelor, Alexis said she saw how sometimes "one issue can be taken and blown so out of proportion."
"It really just defines that person when there are so many other qualities of that person. And that's one thing about TV that I really kept in mind, was that I needed to be careful about what I revealed, what I didn't, what I focused on; because you never know what part of your personality or actions are going to be highlighted and made out to be who you were," she said.
"I think that they didn't show all the time I was laughing, goofing off and having fun with the girls. I mean I wasn't always quiet and shy... I got to know a lot of the girls and we had so much fun. I got to Andy also, and not all of our conversations were these very serious conversations."
Like millions of other Americans, Alexis was initially introduced to Andy at the conclusion of The Bachelor: Rome (which starred Italian prince and cosmetics entrepreneur Lorenzo Borghese) last November.
She said the brief video introduction was "definitely one of the reasons why I did it," adding the 30-year-old medical officer "seemed like a really nice guy and I was interested in getting to know him."
Upon personally meeting him, Alexis said Andy Baldwin "seemed kind of nervous" and had a "hard time kind of relaxing and being himself."
"He made sure to always compliment everyone and make sure everyone was having fun and nobody felt left out, which was a double-edged sword," she explained.
"On one hand, it was one big happy family. On the other hand, you never knew if he was saying the same things to another girl that he just said to you."
During the last rose ceremony, Alexis said she "wasn't disappointed" when Andy didn't call her name because "it became rapidly apparent we weren't the perfect match and I'm fine with that."
Still, Alexis said she was able to take some positives from her experience.
"I learned that basically in life, you can make anything you want and get anything out of it depending on what you put into and how you conduct yourself. A lot of people criticize reality TV and reality TV contestants as being wild and crazy, but you don't have to be that way. You can be yourself. It's all up to the person."
The third episode of The Bachelor: Officer and a Gentleman airs tonight at 9:30 PM EDT.
Matt Richenthal is the Editor in Chief of TV Fanatic. Follow him on Twitter and on Google+.