Celebrities including Jewel, Tony Hawk, Serena Williams and William Shatner are dreaming of life in the fast lane, as they race to the finish in the new reality show, Fast Cars & Superstars - The Gillette Young Guns Celebrity Race, a seven-episode series to air on ABC primetime beginning before the NBA Finals on June 7.
Twelve celebrity drivers will partner with the Gillette Young Guns - six of stock car racing's most talented and popular drivers - to learn what it takes to win on the race track.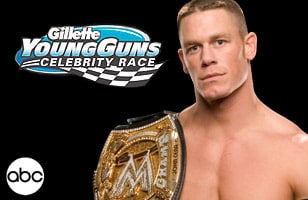 The show will explore the interaction of top young stock car drivers with stars from the world of sports, music and entertainment, featuring drama and competition on and off the race track. The show will culminate in a one-hour finale where the celebrities will be coached from the pits by their Gillette Young Guns instructors and compete against each other during a time-trial race.
"I jumped at the chance to be involved in the Gillette Young Guns Celebrity Race," said Shatner. "It's every American boy's dream to get behind the wheel of a stock car."
The show will include six half-hour episodes with an hour-long finale. The series will be hosted by ESPN anchor Kenny Mayne and co-hosted by former Cleveland Cavaliers center and current ESPN NASCAR analyst Brad Daugherty.
"I hope these celebrities are ready to feel the real power of a stock car," said Jimmie Johnson, the reigning NASCAR NEXTEL Cup Series champion and member of the Gillette Young Guns. "We're all really excited to share our knowledge of competitive racing to coach these stars. We'll see who has what it takes to be the Champion."
Others involved in the show include WWE superstar John Cena (pictured above).
Matt Richenthal is the Editor in Chief of TV Fanatic. Follow him on Twitter and on Google+.