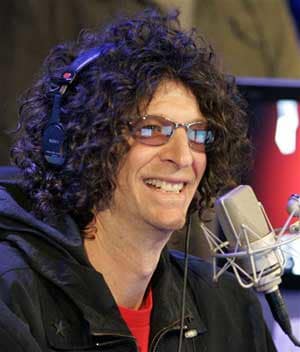 Media mogul Howard Stern says he is backing the website votefortheworst.com in a genuine attempt to break the
American Idol
regime.
For the last two weeks, Stern has been promoting the site that encourages people to support the worst performer on American Idol. Website voters have selected Sanjaya Malakar as their candidate and turned him into one of the most talked-about Idol contestants ever.
"We're corrupting the entire thing," Stern said on his Sirius Satellite Radio show, the day after Malakar was voted in as one of the top nine finalists. "All of us are routing American Idol. It's so great. The number-one show in television and it's getting ruined."
Stern said he hopes promoting Malakar will destroy the competition and turn the show into a joke.
Meanwhile, Joss Stone turned down the chance to be a guest judge on the show - but is taking the opportunity to mock it.
The British singer admits she was a big fan of the first season of Idol, but the show no longer appeals to her.
"I think if you keep going with it, it's gonna get more and more cheesy... and that's a shame for the artists, because they just want any break."
Stone also questions the credentials of the show's judges.
"There's some great people there, like Randy Jackson... He has every right to judge them. But the rest of them... why are you judging these people?"
What do you think, fans? Agree with these comments at all?
Matt Richenthal is the Editor in Chief of TV Fanatic. Follow him on Twitter and on Google+.