Jordin Sparks is threatening Melinda Doolittle as the American Idol favorite.
And it turns out the 17-year old daughter of a former New York Giants player has the athletic vote going for her, as well.
"I played with her father, Phillippe Sparks, about eight, ten years ago," says retired NFL running back, Tiki Barber. "He was the cornerback. I remember Jordin when she was a little girl at the Giants games."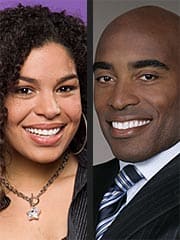 And Jordin remembers Tiki fondly, too.
"I saw an interview that she did and she said her favorite player was me! It's interesting how life brings itself back around ten years later," Tiki says to People magazine.
Interesting, sure, but doesn't he need to be hitting phones on Tuesday nights to vote for his old teammate's daughter?
"I know, right? I really do," he says. "Maybe I'll get all my friends to vote for her, too."
Matt Richenthal is the Editor in Chief of TV Fanatic. Follow him on Twitter and on Google+.