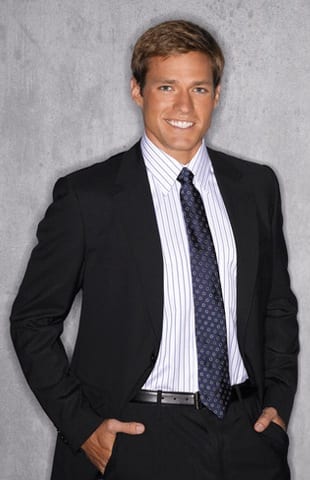 Andy Baldwin is hot.
And an officer in the U.S. Navy.
And a gentleman.
But don't worry. It doesn't go to his head.
The star of the newest season of ABC's The Bachelor (subtitled, fittingly, Officer and a Gentleman) says he's just a regular guy who knows what he wants.
"I'm just a guy that grew up in a small town in Pennsylvania with a great family," Baldwin tells Us Weekly. "I have no ulterior motives other than I just haven't met the woman who is right for me yet."
As these (somewhat insane) girls gather to giggle poolside with their bachelor, Andy Baldwin explains what he looks for in the perfect mate.
"One of the sexiest things about a woman is if she's intelligent and witty," says Lt. Baldwin, who's also (gulp) a doctor. "If she can challenge me in that a manner, she's so much more beautiful in my eyes,"
This bachelor's also looking for a match willing to have fun with fitness. Having recently participated in the Iron Man triathlon - with Bachelorette winner Ryan Sutter (now the husband of inaugural Bachelor runner-up Trista Sutter), Baldwin is very body conscious.
"I love to work out and exercise with my girlfriend," he said. "The most romantic thing I like to do is go for a run and get the blood pumping, and take a dip in the ocean and watch the sun rise."
Baldwin, who went to Duke, says Southern hospitality is something he is all about. Lucky for him, there are a bevy of Southern belles vying for the affections of The Bachelor this season.
"They must have had a good casting call in Dallas," says Baldwin, who is probably the polar opposite of his predecessor, Lorenzo Borghese. "Meeting the girls, I was like 'You're from Texas, too?'"

Matt Richenthal is the Editor in Chief of TV Fanatic. Follow him on Twitter and on Google+.