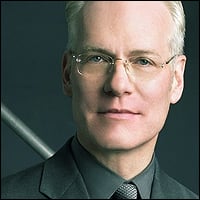 So much for those rumors that
Project Runway
casting calls for season four were a disaster.
At least according to one of the reality show's stars.
Fashion guru Tim Gunn says Bravo seems to have found enough designers to start its own clothing label, never mind film the popular series.
"We just finished auditions, and I will tell you, we found the most phenomenal designers," Gunn recently told The Seattle Times. "We could cast three seasons with the talent we saw."
Earlier this month, Bravo announced that the upcoming fourth season of its Emmy-nominated Project Runway series will not air as part of its Summer 2007 programming schedule; it will instead premiere in late 2007.
Casting for the series began in late March, and despite being busy with his new job as chief creative officer for Liz Claiborne; working on his new book, "Tim Gunn: A Guide to Quality, Taste & Style;" and casting for a Bravo reality series version of the upcoming book, Gunn was part of the process.
Never one to shy away from offering criticism to Project Runway's designers, Gunn apparently took the same approach to book editors who asked for clarifications on such Gunn-isms as "faux bois!" and "sturm und drang!"
"The editors said, 'Change these words, change this reference,'" Gunn said. "And I said, 'You know something, I can't do that.' If this is a problem for the reader, they can sit with a dictionary in their laps."
Sounds like the Tim Gunn we all know and love.
Matt Richenthal is the Editor in Chief of TV Fanatic. Follow him on Twitter and on Google+.